Get to Love Your Job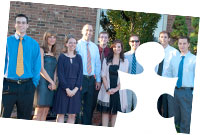 Web Solutions has been built on a strong foundation of talented web designers, programmers and creative thinkers who seek to excel in a collaborative work atmosphere that challenges the individual and rewards the ability to think outside of the box.
---
Professional Growth
To keep pace with our commitment to innovation and growth, we foster the development of each team member's unique skill sets through:
Challenging & Diverse Project Plate
Opportunities to Impact Project Goals
Bi-directional Team Member Support
Enrichment Programs & Trainings
Book & Resource Budgets
Employee Recognition
---
Culture
The culture at Web Solutions didn't develop accidentally. We have worked deliberately to foster a culture where "get to love your job" truly resonates with each employee and the workplace environment through:
A Dynamic, Team Centered Workplace
Doing What's Right, Not What's Most Profitable
Growing Each Career Path Around Employee Strengths
Employee Directed Extracurricular Activities
Like-minded Conversations
---
Traditional Benefits
Ultimately, we realize that everyone requires some traditional compensation for a job well done. Our full-time employees benefit from:
A Family First Work Place
Competitive Salaries
Profit Sharing Opportunities
Health Insurance Benefits
Matching Retirement Benefits
Paid Holidays, Vacation, Personal & Sick Days
Interested in collaborating with Web Solutions?