Email Marketing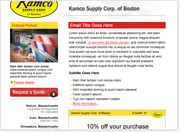 The most effective way to turn one-time clients into repeat visitors is through the use of email marketing. Any organization can benefit from connecting with both existing and prospective customers through this cost-conscious marketing tool. Web Solutions can implement your email campaign to include:
Tactical definition of target audience(s) and frequency of distribution
Creation of distribution schedule and email themes
Custom HTML email template design
Development of email content and "tie-in" content within the site
Tracking and analyzing open and click-through rates
Management of email lists, opt-outs and residual sign-ups
Residual modifications to campaign strategies and site tie-ins
There has never been a better time to contact Web Solutions to discuss how a tactical email marketing campaign can provide you with a meaningful client communications platform.