Philosophy
Web Solutions strives to collaborate with our clients to bring creativity and innovation to all aspects of their organizations.
We foster an environment for our employees that encourages thinking outside the box, honest communications, productive team interactions and personal growth.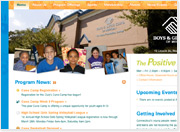 Boys and Girls Club of Meriden
Silver Award for Interactive / Online Marketing
We have the ultimate goal of building a successful organization by remaining a strong and relevant leader in our industry.
At Web Solutions, there is a commitment to being responsible members of the communities that we serve. Through monetary sponsorships, pro-bono work and even some sweat equity, we have made over $100,000 in contributions to non-profit organizations throughout Connecticut.