Focus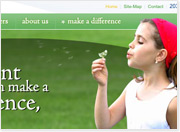 Child Guidance Clinic Homepage
The Web Solutions Focus program was designed to give small and growing organizations an edge on the competition. Focus clients benefit from cost-conscious marketing and web development options including a full spectrum of services, timely support, and access to a large array of Apps intended to shape their brand and sharpen their web presence.
Access to full a suite of services and tools
Timely support for your marketing initiatives
Continuing education through our client newsletter
Flexible pricing structure
If you're ready to hone in on the concentrated creative function you need, we'll help you get focused.