Best Practices for Video Marketing
Posted on by WebSolutions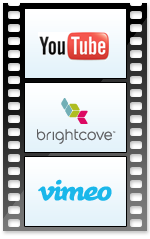 As Internet marketers, we're always searching for the latest and greatest techniques for spreading awareness and brand recognition. When you consider adding or expanding your reach with video, your video development strategy should include more than just the content of the video itself – it should also focus on the following elements:
Video Hosting Providers
Video Search Engine Optimization (VSEO)
Promotion
Tracking
Video Hosting Providers: The Players
The practice of uploading a video to your own website with your own embed code is going away. With the lack of Flash support on devices like the iPhone & iPad, it is important to put your videos in a place that can be viewed by as many browsers and devices as possible. Third party video hosting providers are an ideal solution to incorporating video within your website, allowing you to upload your videos to their platform and simply embed that file within your site. This technique minimizes both bandwidth usage and cost to you, and can often have additional benefits. Here are a few of our favorites along with an overview of each:
YouTube
As the second largest search engine and most popular online video community, YouTube has over 40% market share in this space.
Cost: Free.
Shareability: Has community with fan base and can embed videos onto any website, Facebook, MySpace, and blog with the embed code. Also allows for private viewing through invite.
Tracking: Publicly tracks views, likes and dislikes, geography, comments, favorites, ratings, embeds, demographics and honors.
Extras: YouTube Channels give you the ability to feature all videos under one username, with logo and color customization for added branding, ranks well in Google search and has mobile capabilities.
Limitations: 10 min. length limit, high competition, reputation as a personal, not professional site, subject to commenting, limited customization.
Brightcove
Only a media provider, not a community, Brightcove has the second largest market share and is the most widely-adopted software for publishing and distributing professional video on the web.
Cost: Starts at $99/month.
Distribution: Automatic creation of media RSS, pushes video to YouTube (can be disabled), indexes directly off feed for all major search engines, API allows video meta data for improved SEO, can disable sharing and embed code (other people won't be able to steal your content and put it on their site), clean URLs for SEO and link shortening for sharing.
Tracking: Tracking is private and includes ability to track unique views, new viewers, geography, drop-off rates, attention span across entire library, social sharing, referring sources, and search (including keywords). Also integrates with Google Analytics, Omniture and more.
Extras: The most customizable player available, no length limit, allows live streaming with social interactions, chat and live DVR, allows advertising within your own video content, mobile capabilities.
Limitations: Cost, no community, API key requires web development team.
Vimeo
Media provider and community that ranks 6th among its peers, Vimeo is best known for its strong policy for preventing copyright violation, only allowing users to upload videos that they have created.
Cost: Basic is free with 500MB storage. Vimeo Plus is $59.95 / year.
Shareability: Strong community base and can share across major social networks. With user account, users can download each video.
Tracking: Publicly tracks views, likes and comments by day.
Extras: Strong privacy policy, supports HD video upload, no banner ads (with Vimeo Plus), mobile capabilities.
Limitations: Strong privacy policy (no commercial video or marketing material), smaller audience, no auto distribution.
VSEO: How to Get Your Video to Show Up in Search
The same optimization practices apply for video as they do to your website. Keep in mind the following elements when posting videos and be sure to include keyword-rich content:
Optimize your content elements including title, description, tags, transcript as well as YouTube extras like favorites, embeds and inbound links
Add videos to Google sitemap: Works for embedded videos from YouTube & Vimeo. Brightcove automatically submits to Google
Include a share button to help spread the content virally
Post videos to individual pages on your site and optimize the page itself with keywords
Promotion: Getting Discovered in New Ways
A big benefit to using third party video hosting tools is the opportunity to cross promote your brand and reach out to new audiences. With today's technology, video can allow anyone to create promotional pieces, product demonstrations, trainings, public service announcements and more. Video can promote your brand to prospects and communicate your message in a new and meaningful format to existing clients.
Similar to optimizing your website, there are several websites out there that will help boost your link popularity. A few of our favorites are tubemogul.com which will mass distribute your video to the most popular video share sites and provide analytics for every site, truveo.com which is one of the world's largest video search engines, metacafe, viddler and dailymotion.
Tracking: Interpret What Works
Once you put in all of the effort to develop a video, make sure you track your progress. Google Analytics allows you to track traffic to your YouTube channel and to your website and you should also use the media player's analytics reports to understand how popular your videos are. Don't forget to keep track of feedback as well. Take viewer comments to heart and look to produce future videos that are reflective of the comments you receive from viewers.
Along with the options presented, Web Solutions has a variety of video solutions that can be customized to meet your specific needs. Video marketing is a great way to spread your message and show the personal side of your business. For help with video marketing strategy, give us a call and together we can choose the best approach for you to get your brand in motion.
---
---