Building a Successful Blogging Strategy
Posted on by WebSolutions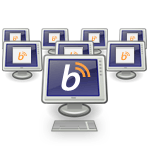 A blog is an online journal, usually written by an individual that typically includes thoughts, opinions or commentary on a particular topic, often with a collection of links to related items on the web. They are increasingly used by business professionals as a way to publish their thoughts directly, without the intervention of an editor.
Corporate blogging has become an almost mainstream tool for communicating regularly with a community of subscribers, including customers, business partners, investors, analysts and the press. Before blogging, any insight into a business was limited to published financials and official press releases. Today, individuals can publish a journal on a daily or weekly basis, allowing interested parties to access information directly from the source while giving readers the opportunity to ask questions and engage in an on-going dialogue. Though viewed with caution at first, today many business and government leaders use blogs to provide candid insight into their organizational strategies and themselves.
Blogging can move your marketing into a new level of engagement. Though it may present some risk, in the fickle world of the new web-savvy consumer, if you play it safe, you might end up playing alone.
Post Regularly:
You don't have to post every day. But if you can, do it. The more regularly you post (with good SEO optimized titles) the better your blog will look to the search engines.
Post In-Depth:
The longer you can capture a reader's attention, the better the chances that you'll deliver your message effectively. Additionally, longer posts allow for more keywords that can help your search engine listings. It will also contain more information that might lead others to different parts of your blog if you're linking correctly.
Post for the Readers:
Keyword optimization is important if you want people to be able to find you through search engines. But your blog shouldn't read like a keyword list; the reader will know it. Make sure you write for the people who will be reading your blog and not just for the search engines.
Connect with Your Readers:
Engaging the reader is the most important aspect of blogging. If no one is reading your blog, why are you writing it? When writing, keep in mind that the most mundane topics can be written in a very interesting manner but very interesting topics can also be made wholly uninteresting. If you're nervous about writing a blog, write from your passion and it will translate to the subject matter.
Rein in Your Sales Message:
Blogs are a good way to tout a new product. You can point it out to people, talk about it and hype it up a little. But you can't do that all the time. If every post is promoting the benefits of your new product, then there's not much point in people coming back. Use blogs to position your company as a resource of information and not just as experts at your own products.
Maintain a Clear Voice:
Unlike much of the other content within your web presence, a blog is an opportunity to let your personal voice come through. Take advantage of humor, anecdotes, first person accounts and your own passion for the topic to give readers a real sense of personal engagement of the topic being discussed.
If you're ready to share ideas and speak openly about your business and industry, a blog can provide your organization with recognition as a market leader and produce a unique and clear voice of insight in the most crowded of marketplaces.
Need help getting started? Let's chat »
---
---