Executing a Social Media Strategy
Posted on by WebSolutions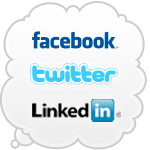 Social networks are a powerful medium to reach millions of potential customers, but not every network is right for every business. Choosing the right network and developing a successful strategy are paramount to successfully delivering your message.
Give us a call and let us show you how proper strategy, goals and execution, can make you "friends" and raise your bottom line.
Look in the mirror.
These sites allow users to discuss and share personal experiences with your brand. They've become a litmus test for brand promises, forcing companies to be open and honest. The new web-savvy consumer will take the word of other consumers over yours and in this potentially volatile atmosphere, if your company is not delivering on its promises, your brand can easily become what the latest buzz says it is and not what your marketing dollar tries to tell them.
Evaluate your goals.
Not every business benefits from being in constant contact with their customers. You must have a plan with specific communications goals. Communicating unimportant or unnecessary information to your followers is no different than spamming and could be a huge turnoff.
Commit to providing updated information.
Social media is about feeding your customers' appetite for news and information. Fail to supply regularly updated content that is relevant to your customers and you'll lose "friends" or "fans" faster than you made them.
Don't just talk, listen.
You now have an opportunity to hear directly from your customers on a regular basis. Use it to better understand and serve their needs.
Stay on message.
These aren't real friends, they're customers. Remember that and use the feedback you've received to adjust and reinforce your brand message.
Below is a description of three of the most popular social networks:
Facebook has more than 300 million users worldwide. This network allows users to create a personal profile, connect with friends and send them messages. Friends are then notified of any changes to the user's profile and or personal information, keeping them on top of what is happening in their lives. Businesses can create profiles, which members can, in turn, become fans of. This gives business an opportunity to create a huge fan base and communicate with them.
Twitter is a free social networking and micro-blogging service that enables its users to communicate via short (140 characters max.) messages known as tweets. Members subscribe to other members' pages and become "followers." Whenever a members sends a message, "followers" are notified. Tweeting, allows companies to develop a base of "followers" to which they can communicate important and timely information regarding products and services.
LinkedIn allows registered users to maintain a list of contact details of people they know and trust in business. The people in the list are called "connections" and users can use them to gain an introduction to someone a person wishes to know through a mutual, trusted contact for the purpose of finding a job, other contacts or business opportunities. Businesses can list jobs and search for potential candidates and candidates can view the profile of hiring managers and discover which of their existing contacts can introduce them.
Need help getting started? Let's chat »
---
---