Go Green to Save Green
Posted on by WebSolutions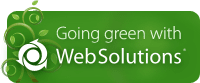 Web Solutions encourages its clients to celebrate Earth Day throughout the year. Marketing via the Internet provides organizations with an ideal opportunity for minimizing costs and reducing the consumption of other materials.
With its ability to connect individuals to information and resources in real-time, the Internet provides a very powerful and very GREEN alternative to traditional marketing efforts. When making decisions on how to spend your marketing dollars, keep in mind the earth friendly ways by which you can promote your organization.
Distribute email versus print newsletters: Not only will you reduce paper consumption and postage costs, you can easily direct your clients to supporting information and materials already available on your website. You can also track the number of emails sent, the amount opened, and how many are forwarded to other people.
Utilize Pay-Per-Click versus print advertising: While some print advertising opportunities exist that fit your specific demographics, none boast the flexibility and opportunities to track ROI that pay-per-click campaigns offer. Market regionally, focus on specific keywords, and set your own budget limits and date ranges. Bolster tracking of results with stats software that analyzes visits initiated from your PPC advertising and adjust campaigns instantaneously.
Conduct business virtually: Your website and a variety of tools available online can minimize the physical overhead required to run a successful business. Sell products via your website. Enroll students for courses. Provide literature and resources through a member / client login area. Telecommute to the office and meetings with nothing more than an Internet connection.
Web Solutions has become an industry leader in providing clients with smart solutions for the development of websites that are intuitive, interactive and, ultimately, eco-friendly. Contact us today to find out more about how to maximize the benefits of having a web presence that works for your business.
---
---