Optimizing Your Marketing Efforts
Posted on by WebSolutions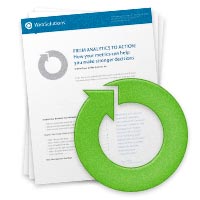 With the growth of Internet marketing platforms, including search engine advertising and social media marketing, there are now more advertising options available to businesses and organizations than ever before. But unfortunately, with this ever-changing and expanding array of options, selecting the right marketing mix can be confusing and time-intensive, and doesn't always make marketing strategy and development decisions any easier.
Not surprisingly, organizations of all sizes, industries, and budgets are suddenly feeling the pressure to maximize the available resources and cut wasted spending. The problem? There's no magic formula to advertising – the success of different methods and messages varies not only from industry to industry, but from marketing platform to platform as well. The best way to find out what works for your organization is through testing and tweaking.
Optimizing your marketing efforts – reaching your target audience, generating brand awareness, encouraging engagement with your clients, and otherwise meeting your marketing goals – doesn't have to be as vague, or as frustrating, as a trial-and-error approach. This is where the process of closed-loop marketing comes in.
What is closed-loop marketing?
Closed-loop marketing is the practice of tracking leads from their origin through conversion, ultimately allowing businesses to measure their marketing performance.
Essentially, this is the process of "connecting the dots" within your marketing practices. An overview of the steps involved in closed-loop marketing might go as follows:
Set your marketing goals.
Select your marketing initiatives and allocate a budget for each.
Determine which metrics to track throughout your campaign.
Get the necessary measurement tools (analytics platforms, databases, CRMs, etc.) in place.
Evaluate your campaign's performance by measuring data and comparing the results with your original goals.
Optimize your marketing efforts – keep doing what works, but make any necessary changes to your campaign to better align its results with your goals.
The benefits of closed-loop marketing for your organization
As you might guess, the potential benefits of closed-loop marketing can be enormous. Imagine the power of knowing which marketing channels were most effective for reaching your target audience, and what types of messages they would best respond to! You'd be able to maximize your marketing budget and return on investment, make more informed marketing decisions in the future, and connect with your audience like never before.
Ready to take advantage of analytics and optimize your marketing efforts? Contact Web Solutions today to learn more about empowering your marketing decisions!
---