Spring Clean Your Marketing for 2019
Updated (originally posted on )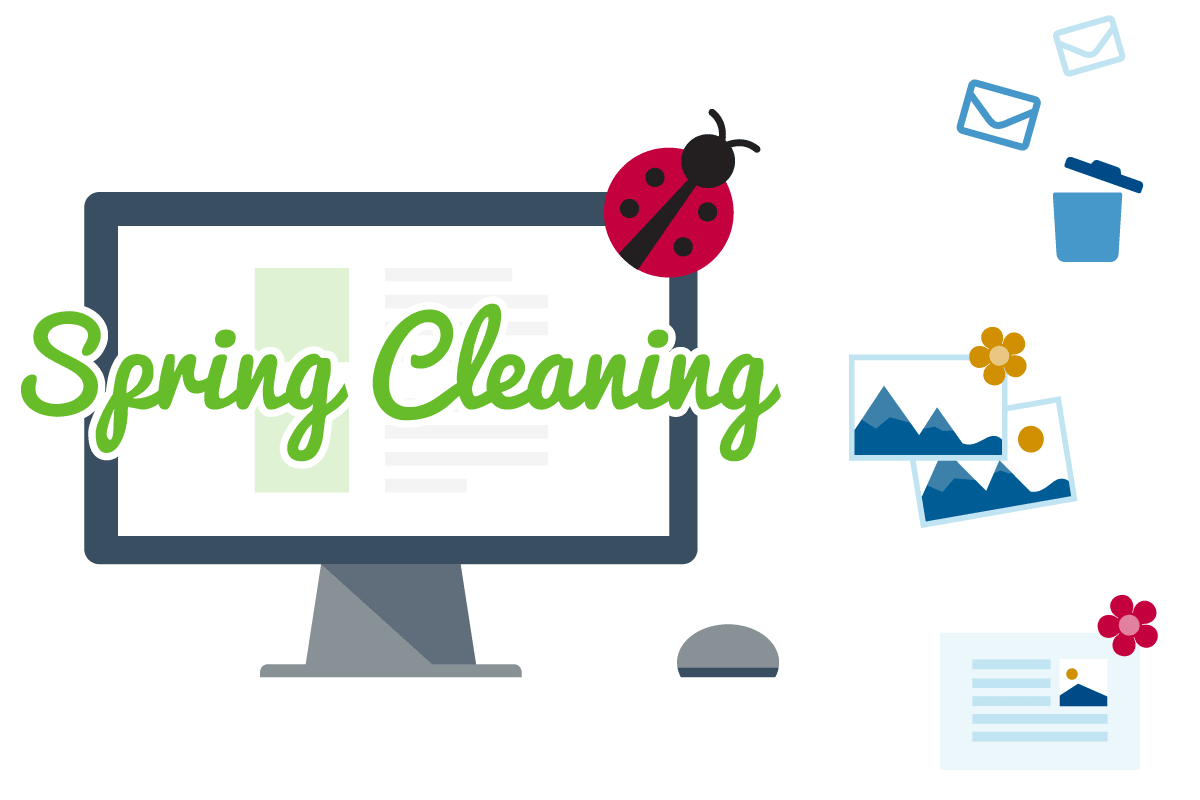 Spring is here, which means it's time to clear out the cobwebs in your marketing for a fresh new start! A successful marketing plan has a lot of moving parts, and chances are that no matter how diligently you try to keep up, some of your marketing efforts have collected some dust over the past year. In the spirit of spring cleaning, here are 9 things you can do now to improve your marketing efforts.
Go through your website content. Is all the content on your website accurate and up to date? D

o any blog posts have content that is outdated or no longer relevant?

Do a content audit for a comprehensive inventory of your website content, and delete or update anything that isn't up to your quality standard.
Purge your email lists. Improve the effectiveness of your email marketing by going through your email subscriber list, either manually or using a list scrub service, to make sure all contacts are accurate, up to date, and engaged.
Examine your social media efforts. Is your business putting its marketing efforts into the right social media platforms? Are you using the right types of social media content to boost engagement? Have you adjusted your Facebook marketing strategy to make the most of Facebook's new policy about content from business pages? Take a close look at what your doing on social, and if it's getting you the results you want.
Update your About page. Your About page is one of the most important places on your website, because it should tell your site visitors who you are and what you do, and help them develop a sense of trust for your company. Make sure your About page is making a positive impression on your site visitors. Does it accurately tell your story? Have there been any key changes in your company that are not included on the About page? Do any years or statistics need to be updated?
Monitor your online reputation. Do you know what your customers are saying about you? More and more people are using online reviews to make purchasing decisions, so your online reputation can make or break your business. Use your spring cleaning as an excuse to polish your online reputation.
Review your branding. Your brand is a detailed identity that defines how your company appears to employees, competitors, and the world in general. Do a quick review of your website and marketing materials to ensure that your logo, brand colors, brand statements, and other elements accurately represent your company's image and goals, and that no outdated versions are in use.
Test your site speed. Is your site as fast as it should be? Even a 1-second delay in loading time can cause visitors to abandon your site and prompt Google to downgrade your search rank, so use a free page speed tool to see if your site is performing as well as it should and providing the best possible user experience.
Make sure you're still targeting the right keywords. When you originally developed your website, you probably had a list of keywords to target. But when was the last time you looked at that list? A keyword audit and some keyword research can help you discover new keywords you should be targeting and determine whether some of your target keywords are seeing a reduced search volume, so you can adjust your content accordingly.
Consider updating your photography. If your website has been using the same set of stock photos for years, chances are they're losing any impact they once had. Think about finding some new photos to give your website a fresh new look, or even hiring a professional photographer to take some custom photography to convey your specific vision.
---
---