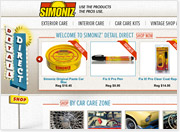 Simoniz Detail Direct home page
Web Solutions is excited to announce the launch of the newly redesigned Simoniz Professional and Simoniz Detail Direct websites!
A brand that has been growing and evolving for over a century, Simoniz wanted to rejuvenate their online real estate. They worked with Web Solutions to develop a new look for an old classic – deciding to re-structure and re-design their two sites, both of which launched in mid-February.
In a nod to the company's 100+ years as a leading manufacturer of car care products, a fresh color palette was combined with retro elements – classic cars, pin-up girls and vintage signs. Both sites also highlighted the company's history with rotator modules featuring vintage advertisements. In addition to their new design, both sites are also more user-friendly and easy to navigate.
The Simoniz Professional website was re-developed with the needs of their distributors in mind, organizing all information by program. The site contains the full array of resources available on the previous site, but also offers new features and expanded professional tools, including online training and certification programs, a convenient dosage calculator and the ability for WET partners to submit service requests.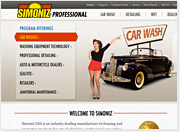 Simoniz Professional home page
For consumers, Simoniz offers Detail Direct – a one-stop source for all the Simoniz products you need to keep your car looking great inside and out! The streamlined online store is powered by Web Solutions' e-commerce platform, and makes it even easier for site visitors to find and purchase their favorite car care products by highlighting best-selling products and allowing users to shop by car care zone. Detail Direct also features new shopper-centric resources – product demo videos provide a how-to for many of the company's products; live chat allows shoppers to get their questions answered fast; and the soon-to-come live webcasts will let viewers in on professional tips and training.
Simultaneous with the site launch was the introduction of the Advantage Club – a free membership program that rewards Simoniz customers for their loyalty with weekly deals and special offers. To supplement members' online accounts, Web Solutions designed mailers and loyalty cards that customers can carry with them.
Explore the new look of Simoniz and check out all that the Professional and Detail Direct websites have to offer today!
---