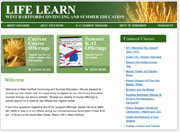 West Hartford Continuing and Summer Education
For years, West Hartford LifeLearn has offered accessible education programs for both the adults and children of the community. This summer, their K-12 summer programs became even more convenient, with an online catalog and registration system built into their website.
While online registration was previously available for West Hartford's enrichment classes, the Summer Options for Kids program has seen continuous growth throughout the years. Seeing an opportunity to bolster their registration system, West Hartford Public Schools staff worked with Web Solutions to implement their student enrichment catalog on their website.
"Web Solutions has worked hard to develop an enhanced registration and administrative system for our summer K-8 and high school programs this spring," said David Downes, West Hartford Public Schools' Director of Continuing Education. "This was a tall order, especially because so many of our 1,200 registrations come in the two final weeks prior to the start of these programs. Programs for children require much more personal information, such as medical issues and emergency contacts, than do regular adult enrichment programs, and Web Solutions was able to modify the data inputting to our needs."
As summer break comes to a close, Downes remarked on the online catalog's success in its inaugural year. "A real testament to the utility of the website and the registration system is that even though we had intended to only use the 'backend' of the registration system for our own purposes this first year and not promote online registration until next year, 112 of our registrations came through the online system, saving us hours of input time. Next year we look forward to many more of our registrations coming via the online system, once we promote that mode of registration both online and in our print catalog."
To learn more about the Summer Options program or to view the online catalog, visit the West Hartford LifeLearn website, http://www.whlifelearn.org.
---