Infinity Music Hall
Established in 1883, Connecticut's Infinity Music Hall has long been a destination for all who love music and entertainment.
Case Study:
Services: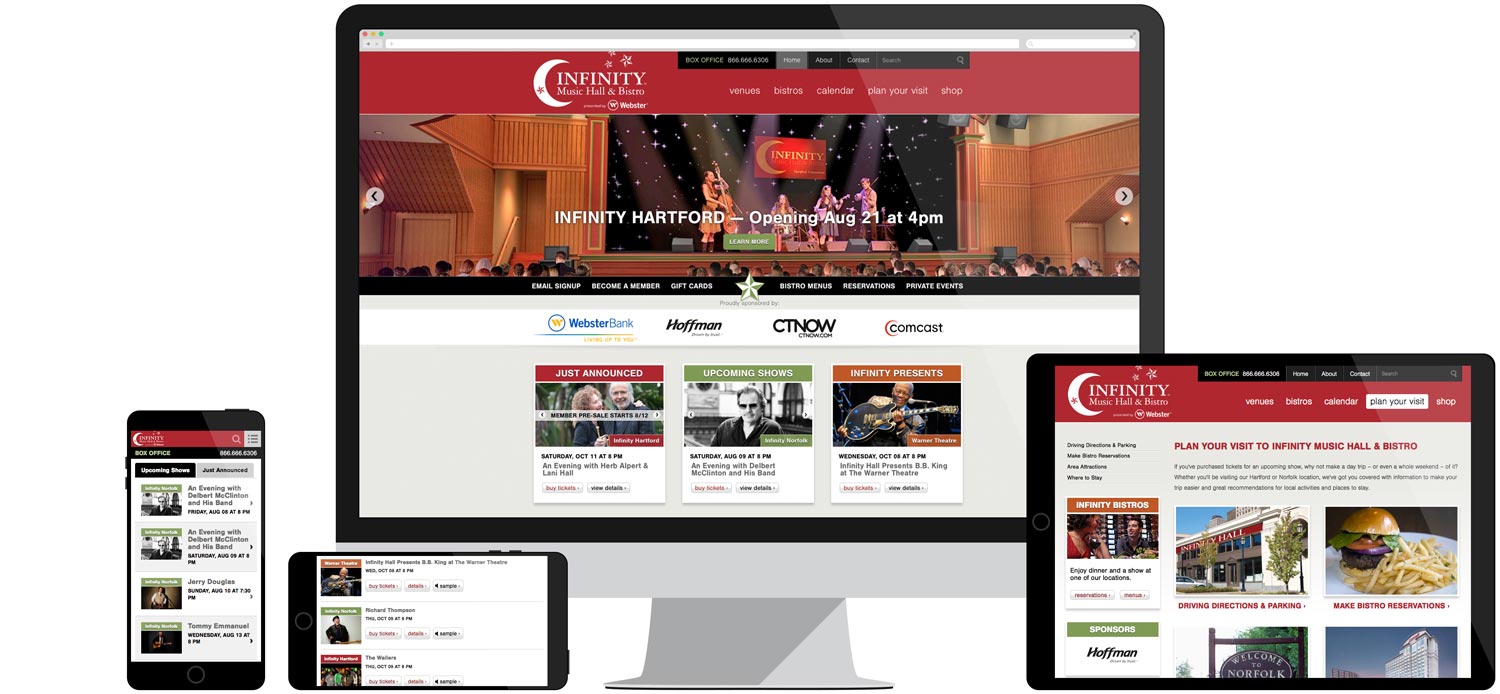 The Challenge
With an exciting grand opening planned for the new Hartford location, Infinity Hall tasked Web Solutions with developing a website that would seamlessly integrate their second location. The site needed to include a custom calendar system for events across both venues with the ability to view, search, and buy tickets – and be home to both bistro locations as well. The new website was also meant to increase bistro reservations, grow their email base, and increase Infinity Star memberships.
Our Solutions
Design:
With brand specifications in place, our creative team designed style boards to choose a color scheme and design elements to highlight the two locations.

While the Norfolk venue maintained a charming, vintage atmosphere, the new Hartford location would provide a modern but casual concert experience. We chose complementing brand colors and interactive design elements for event details in the calendar section and callout graphics throughout the site.
Calendar:
Our design and technology teams planned the calendar to be both visually appealing and user-friendly, and worked together to bring the custom module to life. Two calendar views allow for easy scanning, while multiple filters allow users to search based on location, date, and artist name.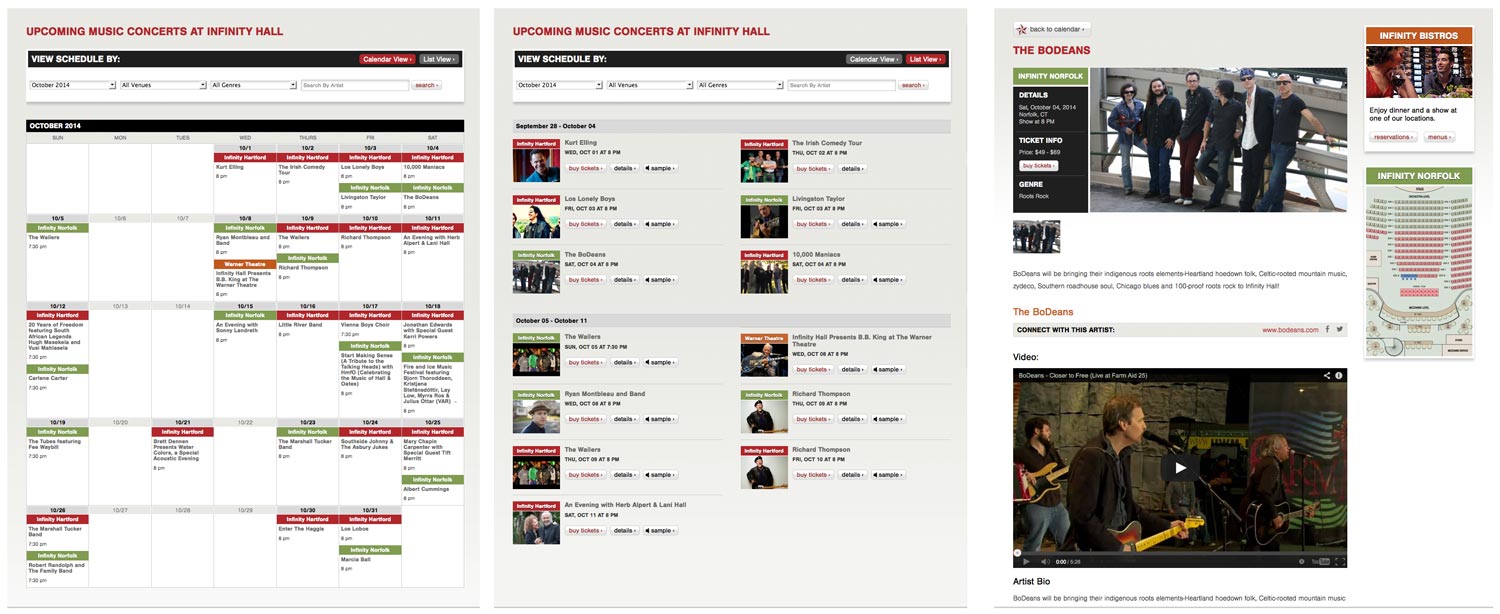 The calendar integrates both venues, color-coding the events based on location. With a "Quickview" rollover on the calendar and list view displays, users can see a snapshot of show details before clicking to view more information. The entire calendar is readable, interactive, and mobile-friendly – and the back-end tools make it simple to manage daily concert updates and announcements.
Technology:
In addition to the custom calendar module, our technology team built a custom sponsorship module, allowing the client to easily control multiple sponsorship placements throughout the website. The site also integrates with their ticketing system, OpenTable, and online merchandise store.
Email:
To maintain a consistent brand experience across Infinity's ongoing marketing efforts, our creative team designed complementing HTML email templates. Built to showcase venue news, bistros, and concert announcements, the custom templates are targeted, easy-to-update, and fully integrated with Infinity's MailChimp ESP system. With newsletter signup prompts throughout the site, Infinity is geared to increase their mailing list and grow membership.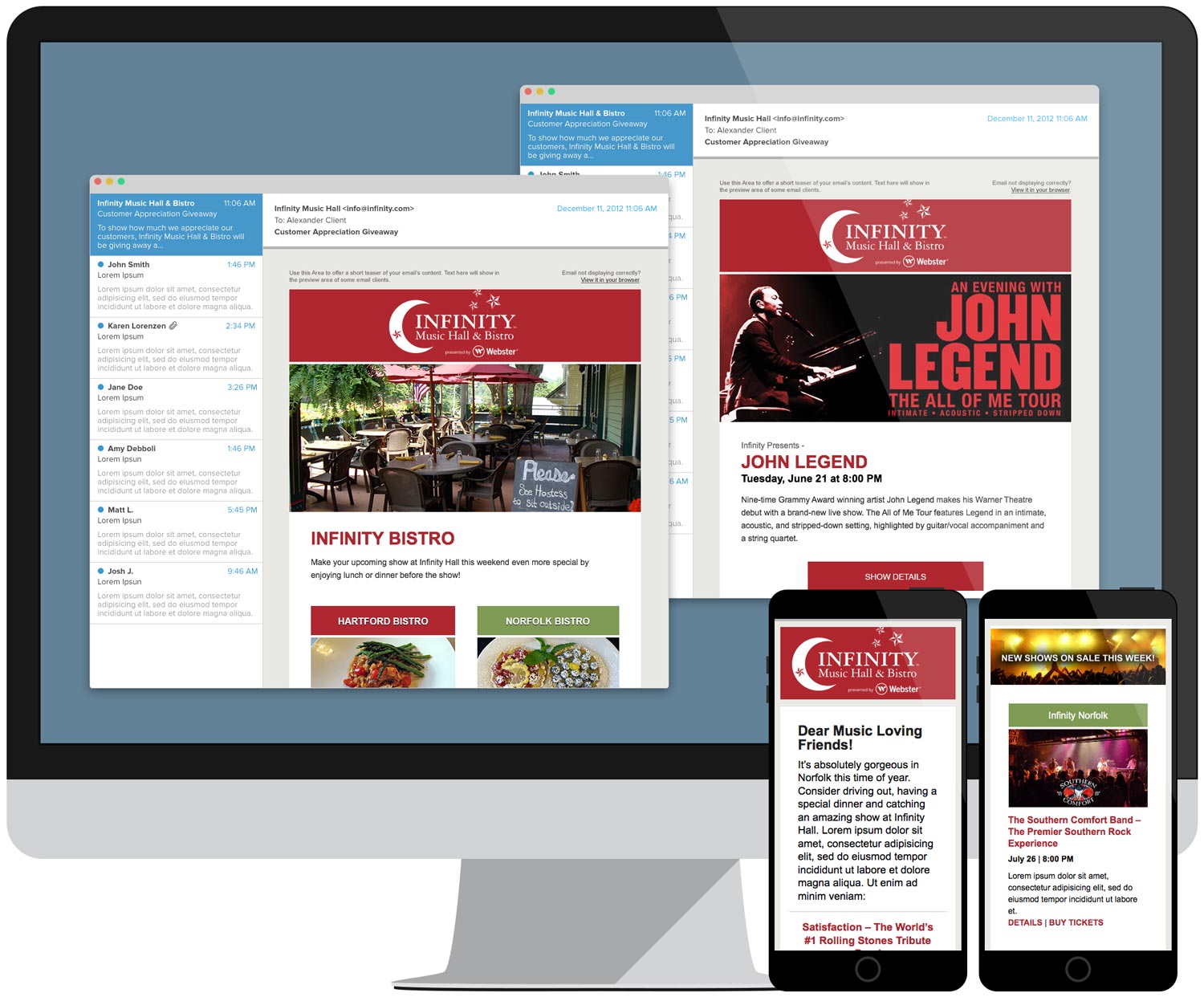 The Results
Infinity Hall Hartford opened in July 2014 with a full calendar of events and a new web presence to handle the demands of two concert and bistro venues. Infinity's website helps Connecticut music-lovers browse shows for the Norfolk and Hartford locations and get excited about upcoming events with artist profiles and bistro menus. With the mobile design layouts for all of the event pages, Infinity's mobile website interactions have increased 178% in just two months, along with a 92% increase in site traffic.
Not only is the finished product exactly what we had hoped for, the whole process from beginning to end was extraordinary. Web Solutions was able to understand the complexities of our offerings, organize them, and then create solutions that are easy for the user to navigate, get information, and ultimately buy tickets.