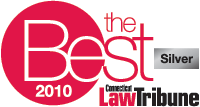 The Connecticut Law Tribune recently announced the winners of its sixth annual readers poll, appropriately referred to as "The Best." Web Solutions is proud to have been honored as the Silver Winner in the category of Web Design.
"It really resonates when a publication's readership takes the time to vote for you," noted Lori O'Brien, Director of Sales & Marketing at Web Solutions. "It speaks volumes about the level of service we can provide to our clients and the satisfaction brought about by these relationships."
According to the publication, the survey measures "the loyalty and satisfaction readers have with vendors. It is an opportunity for readers to speak up for those providers they believe are the best." The survey results are available at http://www.ctlawtribune.com.
Web Solutions is thrilled to receive this accolade and would like to thank its friends in the Connecticut legal community for their continued support.
---