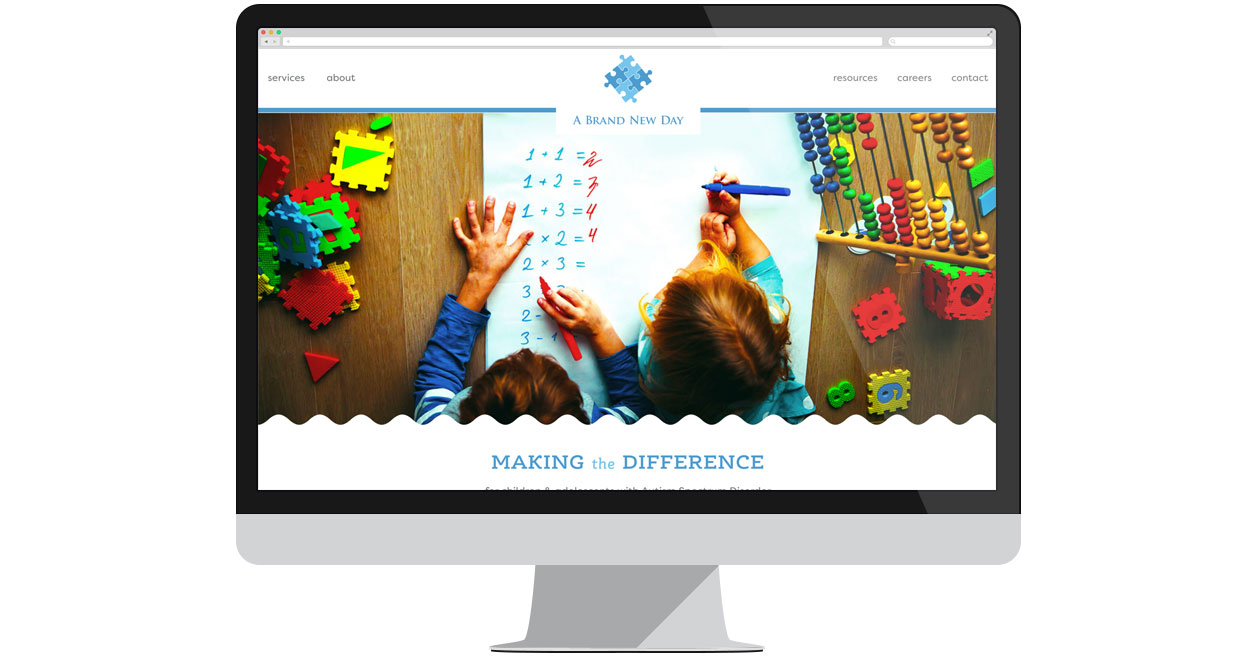 A Brand New Day offers in-home and on-site treatment for children and adolescents with autism spectrum disorder (ASD) and other disorders.
A Brand New Day had a website built in-house, but wanted an updated site to coincide with the opening of its new clinic, which offers therapy and programs for kids experiencing difficulties with social skills, communication, and life skills.
"The purpose of the new site is to give people some insight into the kinds of services we provide, explain and simplify the process for obtaining the services, and give them a little view into our company, our mission, and our team," said Anna Reinhardt, CEO of A Brand New Day.
Web Solutions built a new WordPress website with a colorful, welcoming look, an easy navigation, eye-catching animations, information on the types of therapy and programs it offers, and a Team page so parents and kids can see who they'll be working with.
"I love how interactive and easy the new site is," said Reinhardt. "I love love love the client contact form (we got 2 new clients just 1 day after going live)—it's so easy for potential clients to connect! I love the assessment page that links you to the different assessment tool sites. I love seeing our team on here. And I really love the little thing that says 1+1=2 —that's my favorite—because that says the process is easy and I want our future clients to know that it is easy because we will make it easy!"
"I was very impressed with the professionalism of Web Solutions and how quickly they responded to our requests," said Martha Calciano, Vice President of Operations. "They made what could be a daunting process smooth and seamless."
"I found it really a great experience working with Web Solutions," said Reinhardt. "The team was very professional, knowledgeable, quick to respond and resolve, creative, and they produced a better product than I could have even hoped for. I would recommend them to everyone!"
For more information, visit www.abrandnewdayaba.com
---