For over sixty years, the Meriden-based Carabetta Organization has been developing, constructing, and managing homes and apartment communities throughout Connecticut and New England. After partnering with Web Solutions, Carabetta now has a new slice of real estate—on the internet.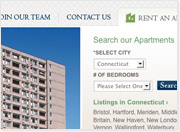 Carabetta Apartment Search
December 17th, 2010 saw the launch of The Carabetta Organization's new website. Offering a one-stop resource for learning more about the company and easily contacting them, the site is reflective of Carabetta's dedication to providing their tenants with both service and quality.
Marianne Monarca of The Carabetta Organization described the web-building experience as a positive one, stating, "I had been wanting to work with Web Solutions for many years and I was not disappointed when I finally had the opportunity. Working with Tom Barton and his team was a wonderful experience. They understood our property management company's vision and needs."
With nearly 10,000 units of housing under their management, Carabetta's business has been both boosted and simplified by the new website; Monarca noted, "Our new website receives more leads today than we have ever had!"
Of course, the website simplifies the apartment-shopper's experience as well. With the click of a button, visitors can browse Carabetta's current apartment listings. Each listing features full details, including amenities, floor plans, photos, and maps with driving directions. When they find something they like, users can also download a tenant application.
Whether you're looking for a space of your own or just checking out Carabetta's new space, visit www.Carabetta.com.
---