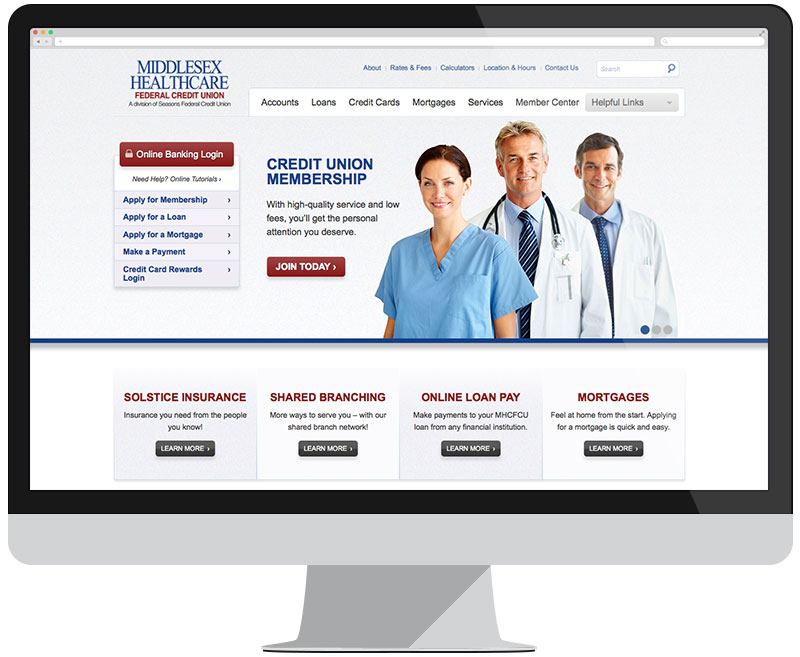 Middlesex Healthcare Federal Credit Union is a not-for-profit financial cooperative providing a range of products and services to members. After Seasons Federal Credit Union took over the banking role for the Middlesex Healthcare community in the fall of 2013, an updated web presence was needed, complete with new tools and features for its members.
"Seasons has worked with Web Solutions for past projects and knew they were the ones to take on the task of updating a website redesign to meet the needs of our members," said Dillon Tardif, Marketing Manager for Season Federal Credit Union. "We asked Web Solutions if they could 'mirror' our Seasons website to keep it in the family but also have a different member target audience and they did just that and more."
"The most important feature for myself as a marketer is the ability to make quick changes to a website. The CMS is the most hands-on and most comprehensive program I have worked with. To make changes to a banner, or add a page without needing help is simply amazing."
"I know this is the start of something good and will definitely look forward to working on future projects. They were available when I needed them and did everything on time to meet our launch date."
To learn more about Middlesex Healthcare FCU, visit their website at www.mhcfcu.org.
---