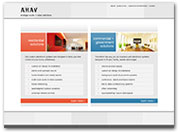 The custom audio and video technology company AHAV is based in Wolcott, CT but serves customers across the country and around the world. This year, they're celebrating their tenth anniversary in business.
In ten years, founder and owner Jay Dobensky has seen technology advance at an incredible rate – and his company has always been able to keep up with it. He's expanded his services, learned new techniques and obtained new certifications. Realizing that his website needed to evolve along with his company, Dobensky came to Web Solutions. "The initial idea was to upgrade our old site," he explains, "but after our first development meeting with the design staff, it was apparent that a complete rebuild was the best fit."
Web Solutions worked with AHAV to develop a sleek new website with a modern color palette. The site's re-organized navigation system covers both the company's residential services and commercial offerings (under the division "Strategic A/V Solutions") so that visitors can quickly find exactly what they're looking for. Apps allow AHAV's portfolio and client testimonials to be showcased on the front end, and easily managed on the back end.
Says Dobensky, "I put my faith in the team, felt very comfortable providing my input to their attentive ears and inquiring minds, and they delivered a result far beyond my expectations. Being in the field of professional custom audio and video, I care more than most about what is seen and heard. The look of the new site is elegant, modern and perfectly descriptive of our superior product and the passion we have for providing it, whether we're configuring a universal remote for a customer around the corner or creating a custom theater in Kuwait. AHAV's motto is Part Art, Part Science, Part Passion Equals Pure Perfection – and Web Solutions was the perfect partner for understanding our vision and helping us to create the perfect website for our company!"
See AHAV's full suite of A/V services by checking out their new website today at www.ahav.net.
---