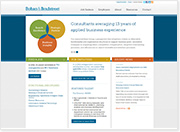 Bohan and Bradstreet Homepage
For over 25 years, Bohan & Bradstreet, Inc. has been providing successful executive recruiting, partnering with a wide range of companies from entrepreneurial start-ups and private-equity funded manufacturers to Fortune 500 corporations, domestic and global businesses, privately-held and publicly-traded corporations and everything in between.
Web Solutions recently redeveloped Bohan & Bradstreet's website to provide a fresh online presence for current and potential clients. Aiming to provide the "best fit" for both job seekers and employers, the new website allows visitors to search up-to-date job postings and submit their resumes, while a "featured talent" section showcases resumes to potential employers. The site also contains a wealth of resources for both audiences, including a best-practices blog full of insight and suggestions, up-to-date news on the job market, and access to their monthly newsletter, Employment Trends.
"We love the new site that Web Solutions designed for us," said Bohan & Bradstreet's Julie Briggs. "It is easy to use and provides users with a lot of information, but at the same time, it doesn't overwhelm them. We look forward to our continued relationship with Web Solutions."
To learn more about Bohan & Bradstreet, visit their website at www.bohanbradstreet.com!
---