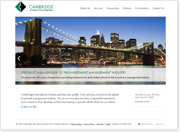 Cambridge International Partners homepage
Cambridge International Partners has over 20 years of experience providing top quality M&A advisory services to the global investment management industry.
Their new website is both elegant and user-friendly, and gives clients and potential clients the ability to learn more about the company. A custom-designed "Transactions" feature showcases Cambridge's most recent successes.
Jessica Sobkowski of Cambridge International Partners noted, "We put our faith in the Web Solutions team to build us a site which met our central goal of having an easy-to-navigate site that would make information readily available to our users. Web Solutions has gone above and beyond our expectations and we are incredibly happy with the sleek new site."
To learn more about Cambridge International Partners, visit their website at www.cambintl.com.
---