The Connecticut Development Authority is the state's bank that offers low-cost financing to businesses, allowing them to grow, expand and succeed. Recently, the CDA did some expanding of their own, working with Web Solutions to build a new web site.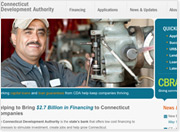 The new site, which launched in early March, was designed to be user-friendly, and has already proven to be a convenient resource for businesses, lenders, and individuals. The CDA commented that they consider the web site their "most effective marketing and communications tool – low cost, flexible, responsive to our audience's and our own needs, and delivering measurable results."
The CDA's site stands out for its clean simplicity, with an interface that, as CDA President Marie O'Brien noted, is "contemporary, engaging, and easy to navigate." The site is also thoroughly optimized for search engines, to connect as many people as possible with the resources they need.
And there is certainly no shortage of resources to be found on the site! Features include personal financial planning guides, downloadable loan applications, and archives of news articles, e-newsletters, meeting minutes, upcoming events, and impressive success stories.
"Working with Web Solutions has been a great experience, from project management to training and support," said CDA MIS expert Archana Ahuja. Web Solutions is pleased to have a partnership with the Connecticut Development Authority, and looks forward to seeing the site connect businesses with the CDA's resources.
The Connecticut Development Authority's mission is to stimulate investment, create jobs, and help grow Connecticut. They offer low-cost financing and provide investment capital to businesses expanding within or moving to the state. Learn more about how the CDA helps revitalize Connecticut by visiting their new web site today at www.ctcda.com.
---