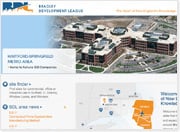 Bradley Development League home page
Web Solutions is pleased to announce the recent launch of the Bradley Development League's newly redesigned website.
The Bradley Development League is a nonprofit consortium of four towns (East Granby, Suffield, Windsor and Windsor Locks) that markets the region for economic development purposes. Their upgraded site, which launched in July, was redeveloped to highlight the BDL's unique skills and expertise, and to offer a more user-friendly, interactive experience.
Patrick McMahon, the Bradley Development League's Director of Economic and Community Development, noted that one of the BDL's primary motivations to update the site was the need to "clearly promote all that our airport region has to offer." In addition, the new site offers visitors an array of useful resources, emphasizing the BDL's central role in the development and growth of Connecticut's businesses. Of particular interest, McMahon noted, will be the Site Finder, "an easy search tool for available sites and buildings," and the website's "important information related to demographics, workforce and incentives that site selectors rely on."
The Bradley Development League site's clean, focused navigation system ensures ease of use for visitors. Overall, McMahon says, the site is "well organized and the graphics and layout are appealing." BDL worked closely with Web Solutions' design department, who "were very responsive and helped us develop a site that we are proud of…we believe the new website captures our assets very well," McMahon added.
Indeed, between the site upgrades and targeted search engine optimization, site selectors and other visitors interested in the BDL area are certain to find exactly what they need. Explore all the resources the Bradley Development League has to offer today at www.bradleydevelopment.com.
---