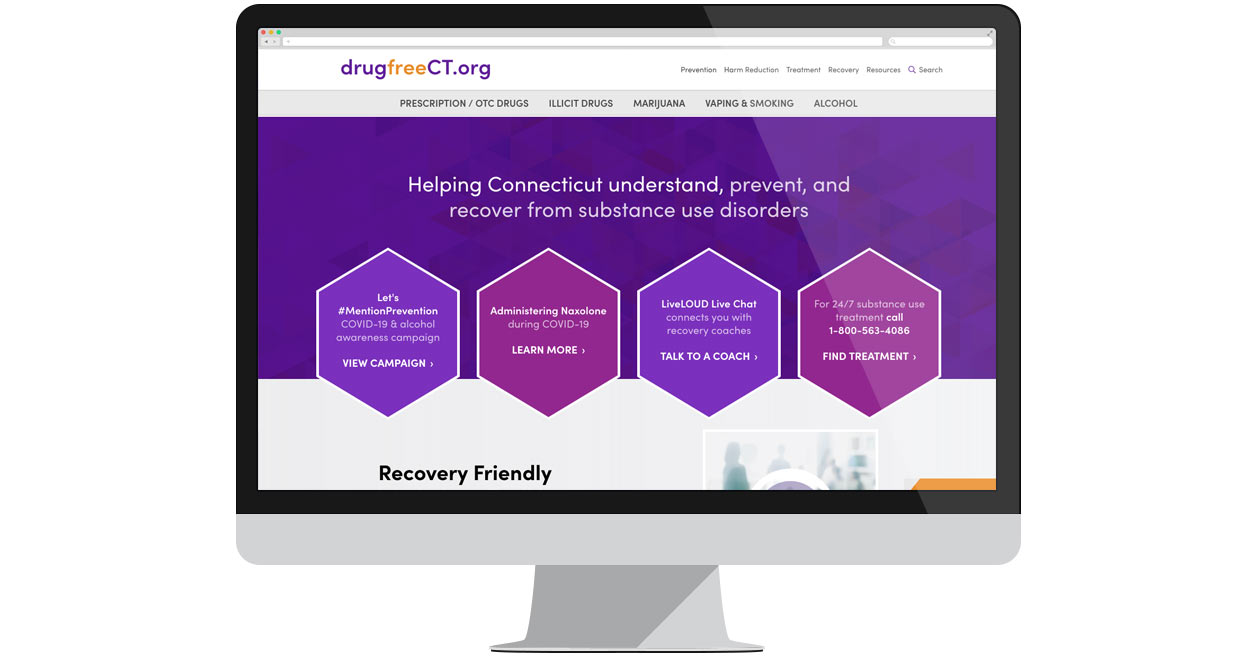 Drug Free CT is a statewide initiative funded by the Connecticut Department of Mental Health and Addiction Services that aims to connect Connecticut residents with substance use-related resources and services, including prevention, harm reduction, treatment, and recovery.
Web Solutions built a new website for Drug Free CT in 2019, but it was largely focused on opioids and the organization wanted to expand its informational offerings to include all drugs as well as alcohol.
The updated site now has four callouts on the home page, each focused on a separate issue, such as for Drug Free CT's COVID-19 and alcohol awareness program, how to administer Naxolone during the pandemic, and finding substance misuse treatment. "The editable callouts on the home page allow us to bring the most relevant and up-to-date information to the forefront," said Tom Fulton, Project Coordinator. "They are very simple to edit and aesthetically pleasing."
Also new is a separate page for illicit drugs, with landing pages for cocaine, fentanyl, hallucinogens, heroin, inhalants, MDMA, methamphetamine, bath salts, and synthetic cannabinoids. All the existing content on opioids is still available under the prescription/OTC drugs tab, and there are separate sections for marijuana, vaping and smoking, and alcohol. Each page contains information about the effects of the drug, dangers of use, signs of misuse, and how to get help.
The new site also has an improved method of allowing schools, doctors, and other officials to request free materials for education and distribution, such as brochures and posters. "Personally, the new order form is my favorite thing about the new site," said Fulton. "It provides a great deal of flexibility in terms of how different items are categorized and how they can be found by visitors of the site." All campaign materials are available in English and Spanish, can be viewed before ordering, and ship free.
"Web Solutions has been a terrific partner in developing drugfreect.org," said Fulton. "I can rely on their staff to respond quickly and provide effective guidance. Sometimes web development can be overwhelming, especially if you're not exactly tech-savvy. But the Web Solutions team is quick to share their expertise in such a way that can be easily understood, even if you aren't very familiar with website development."
For more information, visit https://www.drugfreect.org.
---