www.ctdiocese.org, the website developed by WebSolutions for the Episcopal Diocese of Connecticut and launched in July 2008, won an Honorable Mention award in the website category from the national Episcopal Communicators organization. The award, for work completed in 2008, was presented in March 2009 at their annual meeting, held near Houston, Texas. The organization's membership includes communication professionals working for or in the Episcopal Church at local parishes and in dioceses, agencies, affiliated organizations, seminaries, and at the denominational headquarters.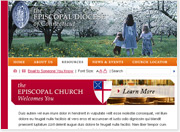 Episcopal Diocese of CT Homepage
The site was praised for its "logical navigation, consistent design, warm and inviting colors, clear and concise writing, and excellent production value."
Websites by other dioceses, local churches, seminaries, and national agencies were all judged together, in a single category. "The competition was very intense this year and the award means a lot," said Karin Hamilton, communication and media director for the Diocese, who entered the site in the competition. "I'm grateful for WebSolutions' hard work on this."
A previous website had grown too unwieldy for users and administrators, said Hamilton.
"We needed to start all over again, re-organize, yet still allow for organic growth," she said. "The staff at WebSolutions listened to my needs and wants, priorities and concerns, then helped develop the new site. I had lots of input along the way. They figured out ways to make my ideas happen and provided administrative tools so I can manage the various parts. I love the way the company learns and builds from modules developed for other clients, and I hope others will benefit from some of the custom work they did for us."
---