The Episcopal Diocese of Connecticut was recently honored with an award for their web site, which was re-designed by Web Solutions last year.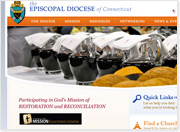 Episcopal Diocese of CT Home Page
The diocese took home the Award of Merit for web sites in the General Excellence category. The award was announced last month in Memphis, Tennessee during the Annual Episcopal Communicators Conference. Episcopal Communicators is a self-supporting organization whose members hold communication and media responsibilities within the Episcopal Church.
The General Excellence category for web sites is judged using a range of criteria that includes design, writing, navigation, user-friendliness, interactivity, and breadth of information.
Karin Hamilton, the diocese's Director of Communications and Media, commented that the judges were drawn to the Episcopal Diocese of Connecticut's "bright and colorful" web site, and specifically to the home page's eye-catching "alternating images, drop downs, rich content, and quick-link icons."
This is the second web site award for the Episcopal Diocese of CT - the previous version of their site, designed by Web Solutions in 2008, won the Honorable Mention award at the Episcopal Communicators Conference in 2009.
"It's such an honor to have this site chosen from so many entries, some of them from much larger organizations," Hamilton said. "Web Solutions really came through for the Diocese of Connecticut in this redesign."
Visit the Episcopal Diocese's award-winning web site today at www.ctepiscopal.org.
---