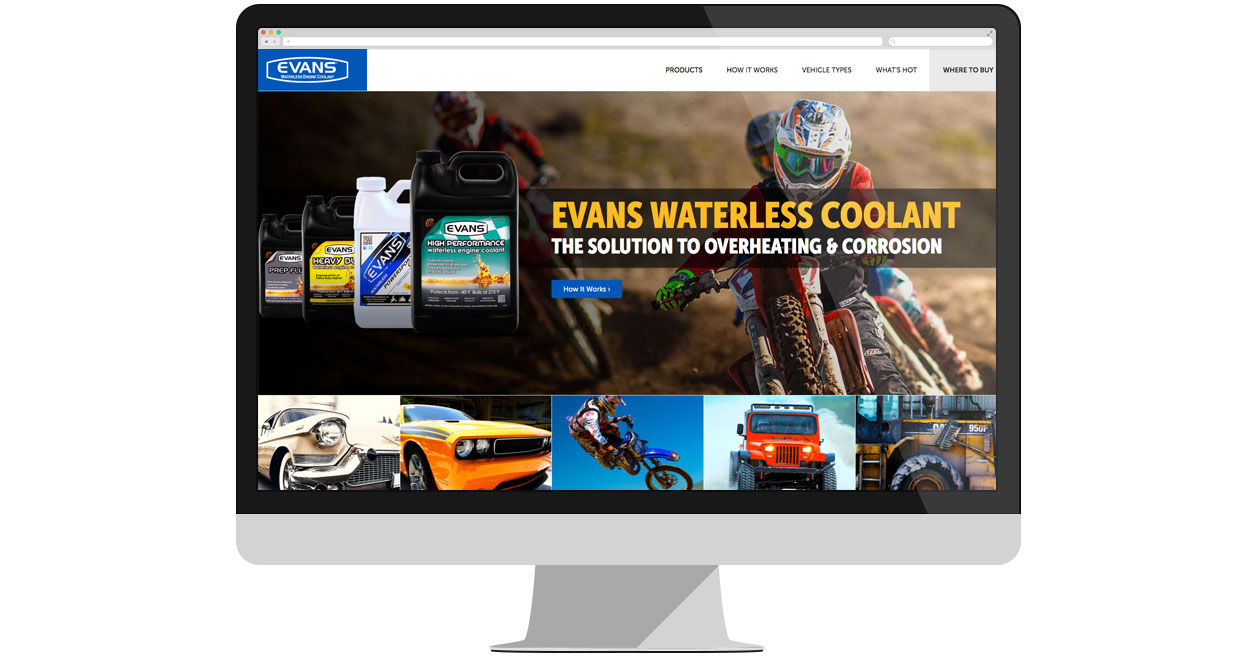 What if a single product could eliminate engine overheating, stop corrosion, increase engine reliability, and last the life of your vehicle? That product is Evans Waterless Coolant.
Evans Cooling, the manufacturer of the only commercial waterless engine coolant, was looking for a more dynamic, engaging website to both educate its customers about the advantages of its revolutionary engine cooling technology and to make it easier for them to locate and purchase Evans products.
The new website, designed by Web Solutions and launched in March, reflects the interests and aesthetics of Evans' key customers—hot rod and muscle car enthusiasts, classic car owners, Jeep and off-roading aficionados, and powersports and motorcycle racers.
With separate landing pages catering to each of these audiences, EvansCoolant.com offers photos, videos, technical specifications, conversion/installation instructions and specific information on how waterless coolant prevents boil-overs at higher engine temperatures and other water-caused problems.
In addition to helpful videos and cool photos from the track to the street, the site offers an extensive FAQ section, a Where to Buy section that lets users search for both online distributors and local retailers, and updates on events and news in the classic car, muscle car, hot rod, off-road, and powersports communities.
For more information about Evans and its revolutionary waterless coolants, visit the new website at www.evanscoolant.com.
---