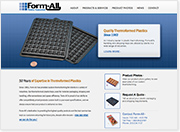 Since 1963, Form-All has provided custom plastic thermoforming, specializing in plastic trays used for material packaging, shipping and handling. They recently decided to completely redevelop their website in order to better showcase their products and services.
The new site features a simple, organized navigation system that makes their products easy to find, while their photo gallery offers instant samples of their work to prospective clients.
"This new website allows us one more way to provide superior customer service," noted Tim Jennings, President of Form-All. "Users can quickly and easily search for products as well as submit custom order quote requests."
To learn more about Form-All's products and services visit their website at www.form-all.com!
---