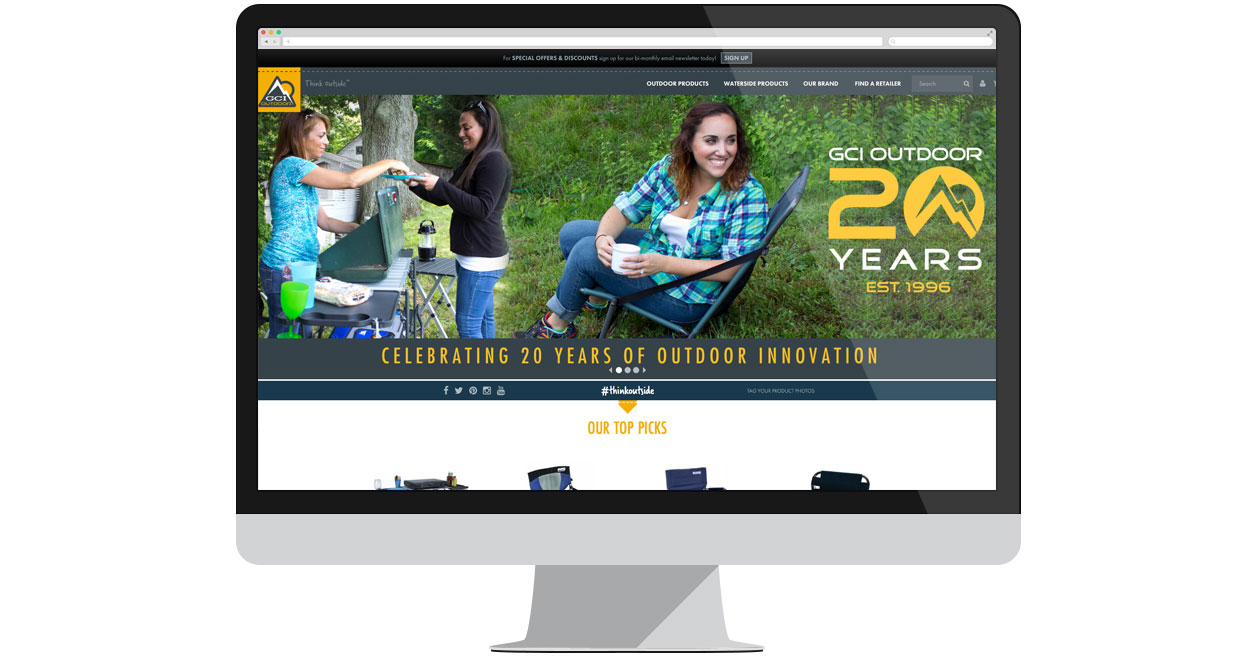 GCI Outdoor sells a variety of products designed to fit any outdoor lifestyle, from full-scale camping adventures to casual family picnics, tailgating, or beach trips. GCI's products offer quality, durability and functionality.
GCI's existing site was "nice but outdated, with limited options for expansion of features," according to Jeffrey Polke, co-president of GCI Outdoor. The company wanted its new website to be more interactive and easier to maintain in-house, and offer a more streamlined and consumer-friendly online shopping process. GCI also wanted the site to match their brand, and use engaging images and a clean layout that both reflects the lifestyle of their target audiences and shows their products in use.
"We use our website as a faster catalog, with all content available to our retailers to help spread the word that GCI Outdoor is a quality company, explained Polke. "The image of your website really does determine whether a customer wants to do business with you. So it better be awesome!"
The website needed to work for two distinct markets—B2C and B2B. On the B2B side, dealers needed to be able to quickly and easily locate the information they need, including product details, product images, and price sheets. On the consumer side, the site needed to be attractive to GCI's target demographic—men and women looking for high-quality, innovative, portable gear for any type of outdoor activity.
Web Solutions custom-designed and built the new GCI site in WordPress, including the WooCommerce eCommerce solution. The features Polke likes most about the new GCI site are the easy "find a retailer" feature, the videos on each product page, the vibrant images, and the quick and easy shopping cart experience.
"Web Solutions has been extremely professional and easy to deal with," Polke said. "They were responsive to all questions and concerns, and they offered excellent advice during the design process based on their experience with designing other sites, which was key to the quick turnaround time for designing our site."
"Most importantly they listened to all of our needs and wants and made sure the website was exactly what we expected. Designing a new website is a huge investment for small businesses. Web Solutions understands this and makes sure you're comfortable every step of the way."
For more information about GCI Outdoor, visit the new website at www.gcioutdoor.com.
---