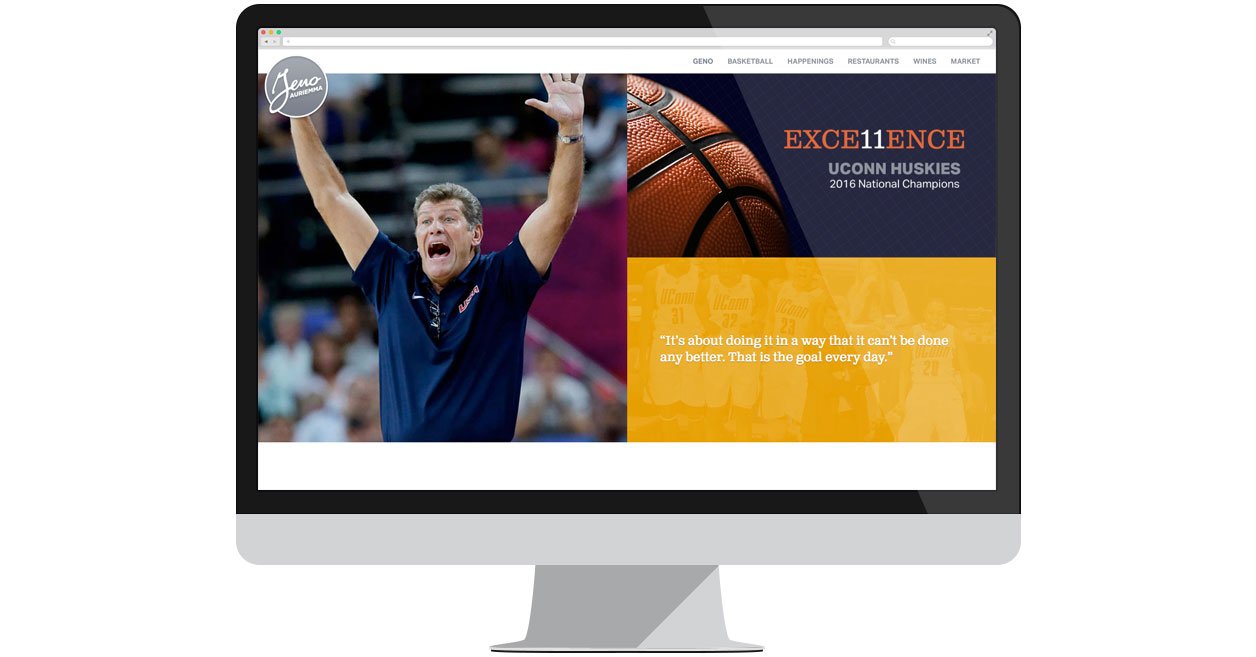 It's been a big week for Coach Auriemma.
On Tuesday night, his UConn women's basketball team beat Syracuse, 82-51 to take their 11th NCAA championship title. Geno Auriemma now has more NCAA basketball championships than any other coach in history, after passing the 10-title mark set in 1975 by John Wooden of UCLA.
This week also saw the launch of the new www.genoauriemma.com website. Designed and built in the Web Solutions CMS platform, the site is an entertaining and comprehensive resource on Geno's many achievements, in basketball and beyond.
Want to know more about Geno? The site includes an extensive biography of the legendary coach, including his childhood in Italy, the sport that was his first love (hint: it's not basketball), the unbelievable way he came to UConn, and how he met the person he considers his most trusted source of guidance.
Want to know more about women's college basketball? The site's This Month in Connecticut Basketball History feature offers hundreds of interesting facts about Geno Auriemma, women's basketball, UConn game statistics, and the WNBA careers of generations of Lady Husky stars. (On this date in 2004, for example, with a win by the women over Tennessee, UConn became the first university to take home both the men's and women's basketball championships in the same season.)
Want to know more about Geno's growing collection of records? The site's Career Highlights section features key numbers such as 90 (games in the team's longest winning streak), 42 (times Geno has coached the women's USA Basketball team to a win), 39 (times Geno has been honored as Coach of the Year), and, of course, 11!
Want to know about what Geno does when he's not coaching the world's best women's college basketball team? GenoAuriemma.com features a wealth of information about Geno's restaurants, signature wines and sauces, charitable causes, and upcoming events and appearances.
For more about Geno Auriemma and the UConn women's basketball team, visit www.genoauriemma.com.
---