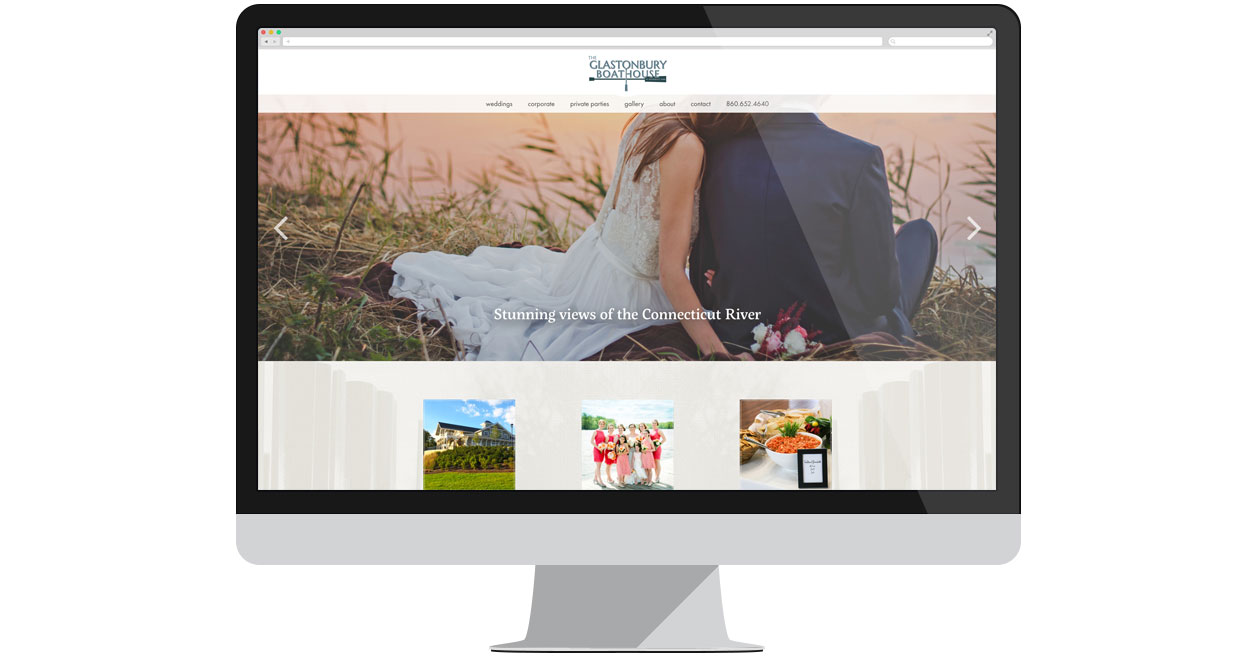 Located on the Connecticut River, the Glastonbury Boathouse is an event venue offering panoramic riverfront views, a bright banquet hall, and exceptional cuisine for weddings, corporate gatherings, and private parties.
Since opening for business in 2014 the Glastonbury Boathouse had been featured within the Town of Glastonbury website, which was "simply not designed to promote a venue space," explained Kathryn Kell, marketing & communication specialist for the Town of Glastonbury. The Glastonbury Boathouse was looking for a website that enabled them to better showcase their venue with photos, sample menus, and more information.
Web Solutions built a fresh new site on the WordPress platform using the Web Solutions Penguin theme, offering a bright, clean look; large photos; a simple contact form; an easy to navigate design; and a gallery of beautiful photos and videos of weddings, private parties, corporate functions, the event space, and those stunning river views.
"Our new 'home' at www.glastonburyboathouse.com will provide us with a more appropriate platform to showcase everything the venue has to offer our future clients," said Kell. "The new site will allow us to open up the lines of communication with brides to be, event planners, businesses, and all potential clients, as well as gain exposure for the space and increase awareness with potential clients in the local community and beyond."
Not only does the new site provide the Glastonbury Boathouse with the required functionality, it also reflects the aesthetic of the venue. "The Web Solutions team took the time to come out and see our venue space to ask questions and understand who we were so that they could successfully portray our image on the site, and I think this is evident in the final product," said Kell. "From the fonts to the color scheme and tone of the site, Web Solutions team did a great job personifying the venue in this project."
For more information about the Glastonbury Boathouse, visit the new website at www.glastonburyboathouse.com.
---