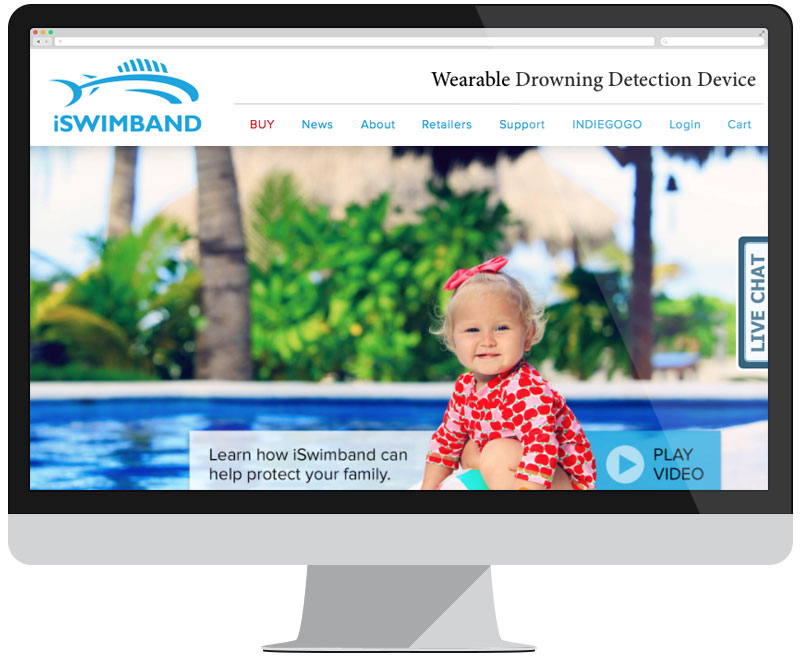 iSwimband is an award-winning drowning detection system that can be used in and around pools, beaches, lakes, and spas. With a sensor embedded in a lightweight headband, the iSwimband monitors the amount of time the wearer spends submerged in the water. If the time exceeds a pre-set limit, an alert is sent to your Bluetooth-enabled device. The system is also available with a wristband for non-swimmers (such as toddlers), and will send an alert if the wearer enters the water.
Aquatic Safety Concepts LLC first worked with Web Solutions for the design and development of wahooosms.com, and then launched the iSwimband e-commerce website in 2013, ahead of product launch. With the product now available and generating strong media buzz – including feature spots on Good Morning America, The Today Show, and The Doctors – we partnered up again to refresh the site design. The new look places emphasis on media content and provides a streamlined way to purchase the iSwimband.
To learn more and purchase the iSwimband, visit www.iswimband.com today!
---