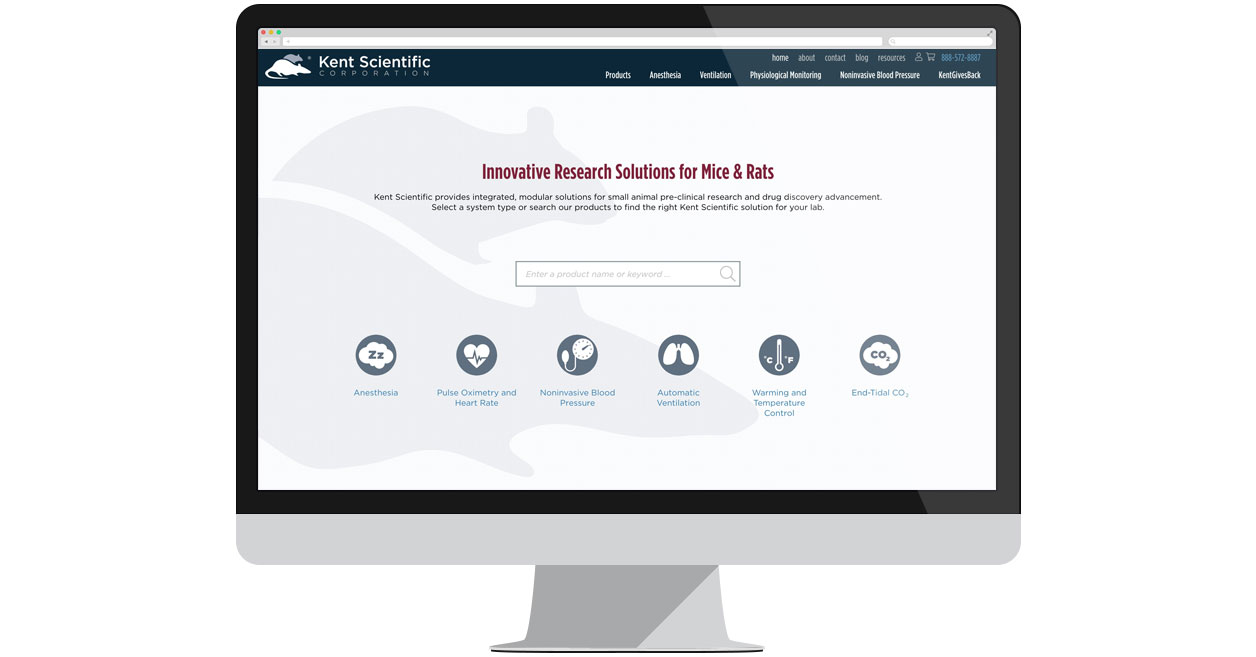 Kent Scientific Corporation serves medical and research scientists worldwide as a provider of innovative integrated solutions for pre-clinical research and drug discovery advancement, including noninvasive blood pressure, physiological monitoring and anesthesia systems for mice and rats.
"Our existing website, originally developed by Web Solutions about 10 years ago and continually modified, adapted, and revised, was beginning to show its wear," said Eugene Marino, Kent Scientific's marketing manager. "We recognized the need for a fresh visual redo and an upgrade of functionality."
The new site, built in Web Solutions Content Management System v4, included a complete redesign, a reorganization of all products, and custom landing pages for the main product categories. The new site also includes a reconfigured shopping cart, with the ability to add related products to the shopping cart with a single click. Also new is a site search feature using the Bing search engine, which enables visitors to quickly find what they're looking for.
"The design and navigation were developed with current best-practices in mind and go a long way toward upgrading the user experience and our brand," said Marino. "We are particularly happy with the interactive features that draw users to ask questions, review/rate products, offer comments, complete calculators, and become more engaged."
"Web Solutions has been a great partner and made our transition as painless as possible," Marino added. "They took our inputs, made suggestions and implemented a plan, keeping us involved and informed throughout."
For more information, visit www.kentscientific.com.
---