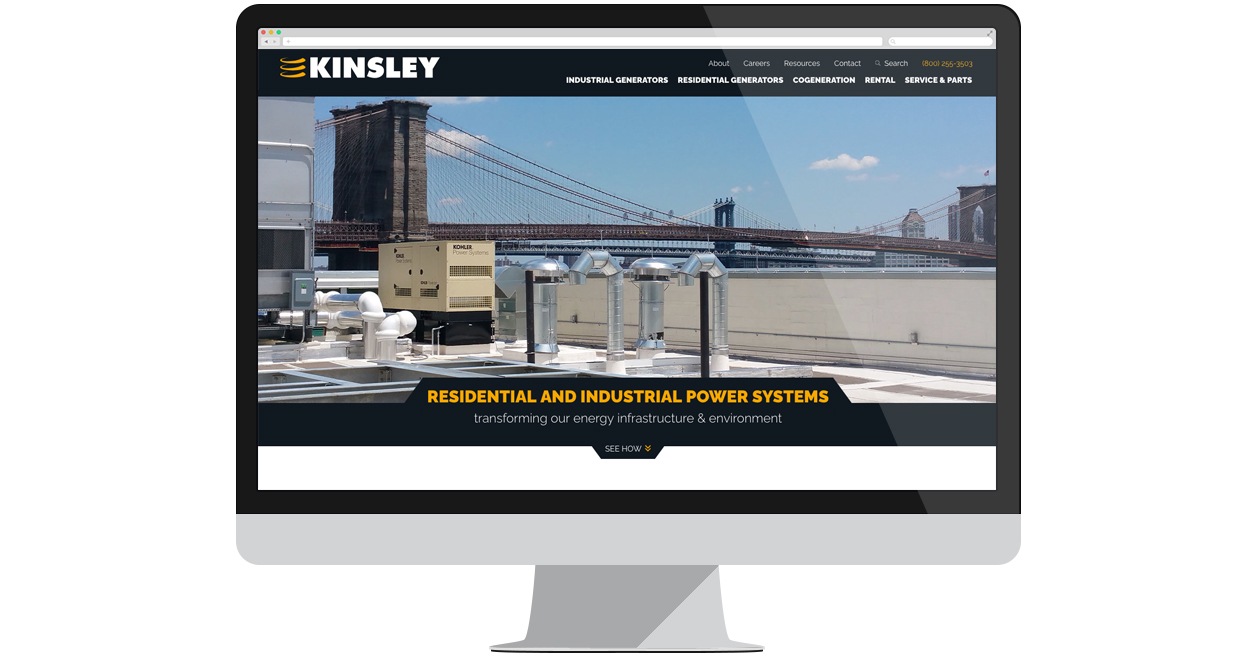 The Kinsley Group is the leading distributor for Kohler generators in Connecticut, Vermont, Western Massachusetts, and most of New York. The company supplies, services and rents quality generators and onsite energy solutions with 24/7/365 response provided by the largest staff of technicians in the Northeast. Founded in 1964, Kinsley has been a family owned company for four generations.
Kinsley had an existing website that was last updated about 5 years ago. "Our website had begun to look dated and was not performing," said Patti Stewkesbury, Director of Marketing for the Kinsley Group. "Our three primary goals for a new site were to convert (gain customers through website interaction – motivating a next step), educate (clearly demonstrate Kinsley core capabilities and value proposition, and serve (make working with Kinsley easier for our customers through electronic add-ons and tools for support).
In addition to those goals, Kinsley wanted a site that was mobile-friendly and search engine optimized, and that let site visitors view all the generators offered, filter results according to their needs, download data sheets and brochures, and contact Kinsley to make a purchase or with any additional questions.
Web Solutions built a new website in WordPress, with a strong modern design featuring bold images and interactive animations to engage the attention of the user. The site features landing pages for each of Kinsley's major areas of business: industrial generators, residential generators, cogeneration, rentals, and parts. The site also has landing pages for the major industries it serves, including data centers, healthcare, telecom, and more.
"There is so much to like about our new site," said Stewkesbury. "There is honestly nothing we do not like, but two things stand out: all the points of contact to convert leads, and the way our Kohler products can be sorted by need, making our customer experience exceptionally easy."
"Web Solutions well exceeded our expectations. Our account manager never took her eye off the ball and was exceptionally accommodating and organized. From the initial sales team to the trainers and writers, I've found nothing but consummate professionals throughout the organization. Web Solutions delivered an incredible end product that is already providing customers to Kinsley!"
For more information, visit https://www.kinsley-group.com.
---