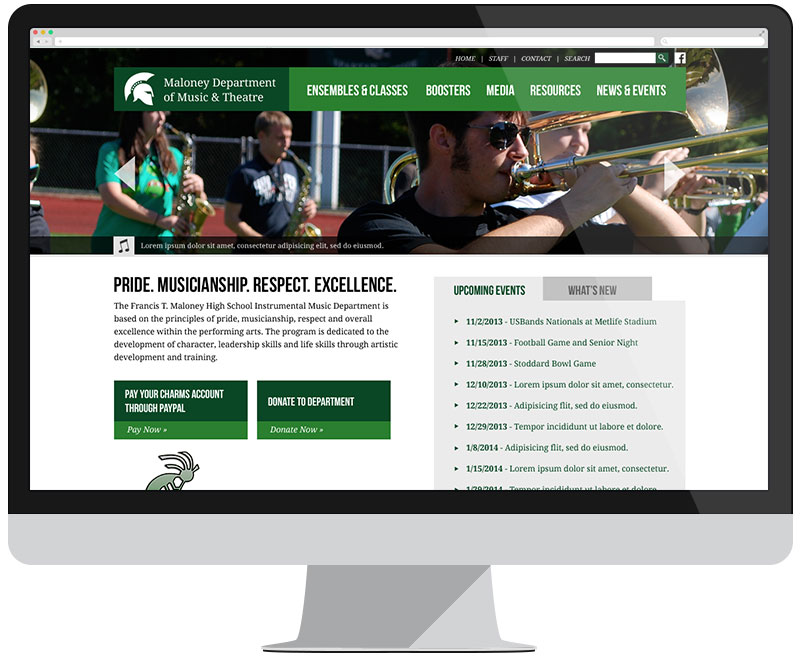 The Francis T. Maloney High School Instrumental Music Department is based on the principles of pride, musicianship, respect and overall excellence within the performing arts.
The Maloney Department of Music & Theatre recently launched a new website, which will serve as the main web presence for the instrumental, choral, and theatre groups at Francis T. Maloney High School.
Maloney High School parents and students can now find information and keep up with news and events related to the entire Department of Theatre and Music. In addition to the expanded resources and information that is now available to users, the website also received a refreshed look and feel.
"The Maloney High School Music Department site provides us with the ability to connect with our audiences, parents, students and alumni in an attractive format," said Brian Cyr, Director of Instrumental Music at Francis T. Maloney High School. "The integration we have with our database systems and the many features the website offers provides our students with an invaluable technology tool that is essential for an arts program in the 21st century."
To learn more about the Maloney High School Music Department, visit their website at www.maloneymusic.com!
---