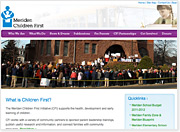 Meriden Children First Initiative
Web Solutions is pleased to announce that the Meriden Children First Initiative website now has a new look!
The Meriden Children First Initiative works to improve the quality of life for young children in Meriden, and offers a variety of free services to the Meriden community, including peer groups and parent leadership programs. Their website was re-skinned this spring.
With sections of the site devoted to the organization's news and publications, the Children First website helps to keep visitors, members, and supporters up-to-date. The site also allows Children First to accept volunteer forms and online donations, both of which are important resources for a non-profit organization.
This year's site re-skin was designed with these factors in mind; David Radcliffe, Director of the Meriden Children First Initiative, emphasized the importance of conveying who they are to the organization's online visitors. "Our retooled website is a much cleaner and more accessible way to tell the Children First story about how parent, school and community leaders work together to help kids succeed," said Radcliffe.
Radcliffe further noted that "the Web Solutions team is an important partner in our success." The two organizations have worked together for over nine years. To learn more about Children First and to see their website's latest look, visit www.meridenchildrenfirst.org today!
---