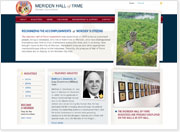 Meriden Hall of Fame homepage
MERIDEN - The city's Hall of Fame has gone digital with the addition of a website to complement the plaques featured on the walls of City Hall.
The Meriden Hall of Fame Association recently launched the website. The site features all of the inductees going back to the class of 1977. The website came with the help of a $2,500 grant from the CUNO Foundation, Hall of Fame President John Hogarth said.
"We have City Hall and we have plaques and memorabilia in a showcase at the [Meriden] Senior Center," said Hogarth, who also directs the Senior Center. "We wanted a more central place where people would go. It preserves the integrity of the data."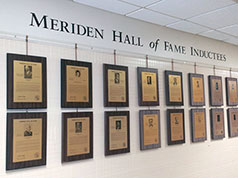 Biographies of the 127 local dignitaries and notables enshrined in the Hall of Fame can be found on the website. They are sorted by the decade and year in which they were inducted and can also be found alphabetically.
Along with the navigation of inductees, there is also a feature that allows a "featured inductee" to appear on the main page. Each time users log onto the website, a new randomly chosen member appears.
"It's a big plus for the Hall of Fame," Hogarth said, noting that local company Web Solutions designed the site. "We're very happy with it."
In addition to giving the Hall of Fame a second home, it also increases exposure, said Joseph Zajac.
"I think it is a great vehicle to move the Hall of Fame along," said Zajac, a member of the committee.
Zajac was among those who pushed for a website, having also increased web exposure for the Linear Trail in the city. He also serves as chairman of the Linear Advisory Board.
Marketing for the Hall of Fame will soon include Quick Response codes, which allow people to scan codes with their smart phone. The scanning will lead people to the Hall of Fame website for quick, easy access.
Also from the website, people can download and submit nominations for induction into the Hall of Fame. Users can download the form to join the Hall of Fame committee and view any news related to the association.
"It gives everybody a chance to visit the Hall from the comfort of their own home," Zajac said. "They don't have to run up to City Hall and wander around and go about reminiscing about this year or that year."
The Meriden Hall of Fame Association was honored by the City Council Monday night for the launching of the website and for its overall support in the community. They were given the "Spirit of Meriden" award by the council for their achievements.
- Article was written by Dan Brechlin and originally appeared on myrecordjournal.com on Monday February, 4 2013.
---