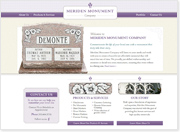 Meriden Monument homepage
The Meriden Monument Company was started with the goal of providing fair, honest services and high-quality memorials. Earlier this year they reached out to Web Solutions to help them design and develop a website to showcase their products and services. The new site was launched last month.
Designed to offer a simple and soothing experience for those seeking to memorialize a loved one, the new website features a calming, peaceful aesthetic. The site's organization also helps to alleviate the process of monument selection. The site's online portfolio displays the company's work as well as illustrating the different monument styles, granite colors, and finish options.
"I am extremely pleased with the outcome of the website and like how easy it for me to maintain," said Jeff Dobensky, owner of Meriden Monument. "The site allows visitors to browse the memorials we offer and helps to simplify the monument selection process."
To learn more about Meriden Monument, or to view their product portfolio, visit the new website at www.meridenmonument.com.
---