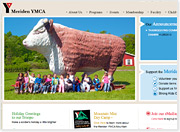 Web Solutions is pleased to announce the recent launch of the Meriden YMCA web presence. The new site is reflective of the Y's focus on youth development, healthy living and social responsibility. The Y nurtures the potential of every youth and teen, improves the community's health and well being, and provides opportunities to give back and support our neighbors. The new web site includes a bounty of information on membership, programs and the facility.
As a vital member of the greater Meriden community, the Meriden YMCA goes beyond traditional recreation and leisure pursuits, and the website reflects this commitment to outreach and giving.
"We knew that the web site would serve as a vehicle to market our programs and facility," noted John Benigni, CEO. "But we were also able to create opportunities for reaching out to the Meriden community for support, donations and volunteerism so we certainly see it as the best of both worlds."
With the season of giving quickly approaching, meridenymca.org currently features the Thanksgiving Community Dinner and the Christmas Community Dinner, as well as the ability to make a donation in support of the YMCA via the website. "The Meriden YMCA is so much more than a great place to exercise and spend time with your family. Our members, volunteers, and donors help us support our neighbors in our community. Whether it's serving or delivering a home cooked holiday meal, sending a child to camp, or teaching a child to swim, their generosity helps give our neighbors a lift when they need it most," remarked Joan Goodman, Membership and Marketing Director. "The new site supports us in our efforts to enhance the quality of life of the people who live and work in Meriden."
To find out more about the programs available at Meriden YMCA or how to support the YMCA through donations and/or volunteering, please visit meridenymca.org.
---