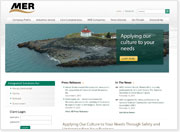 Moran Environmental homepage
Moran Environmental Recovery (MER) provides specialized services to clients within the specific energy & industrial, marine, railroad and government sectors throughout the United States. They are a nationally recognized Oil Spill Removal Organization (OSRO) who work directly with federal, state, local and private spill managers to pre-plan for and if necessary, respond to significant environmental events.
The newly launched MER website has a simple yet organized navigation system, making it easy for users to find the desired information. Some of the main features of the site include an up-to-date news and events module, customer testimonials and a customer login area. All features were deployed to create interest on the client's behalf and to encourage them to contact MER to learn more about their specialized capabilities.
"One of our objectives with the website was to use content to engage the client into wanting to 'learn more' about MER's specialized capabilities," noted John Megnia, director of sales and marketing." Web Solutions has created a website that is not only aesthetically pleasing but is extremely easy for us at MER to manage and update. We are extremely pleased with the final result and are looking forward to our collaborations with Web Solutions."
To learn more about MER, visit the website www.moranenvironmental.com!
---