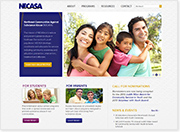 Northeast Communities Against Substance Abuse (NECASA) is a twenty-one town regional substance abuse action council in Northeastern Connecticut. Formed to reduce and prevent substance abuse in the area, NECASA works with local organizations and systems to develop, coordinate, and advocate for services such as community awareness and education, treatment and aftercare.
Recently, NECASA partnered with Web Solutions to develop and design their new website, which launched last month. The website keeps information organized and easy to find, while an online contact form allows site visitors to quickly get in touch with NECASA.
"The new enhanced website allows us to upload videos, add news items and keep the site up-to-date," noted Bob Brex of NECASA. "The site also allows the region's residents to nominate individuals for NECASA's Volunteer with Youth Award and the Judith Nilan Award for Community Service to Youth."
"We are extremely pleased with the website and love the amount of information it provides for youth, parents and community members about the prevention of drug and alcohol abuse, without overwhelming them."
To learn more about NECASA, visit their website at www.necasaonline.org!
---