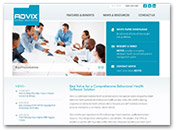 Advanced Behavioral Health, Inc., a Middletown, CT-based non-profit, has launched a new website for their latest initiative, Advix, an electronic health record and practice management system for behavioral health providers.
Designed by experienced behavioral health professionals, Advix is a full-functioning software solution that has earned Meaningful Use certification from the federal government. The software offers secure storage and organization of patient information and records as well as scheduling, billing and reporting modules.
Like the software itself, the user-friendly Advix website was designed for intuitive use. In addition to offering up streamlined information on the product's features and benefits, the site allows visitors to download a free whitepaper to learn more about federal guidelines. Most importantly, the site's simple navigation system makes it easy to get started – two online forms allow visitors to contact the company for more information, or to request a demo of the software.
"We are pleased with the clean, crisp feel of our new website for Advix, a certified electronic health record developed by ABH Enterprises, LLC. The team at Web Solutions has been very responsive to our needs, and they've been great to work with on our web design projects." Marlene Kurban, Vice President of Business Development at Advanced Behavioral Health, Inc. The ABH website is also currently under development with Web Solutions.
Learn more about Advix and check out the site's appealing design by visiting www.advixehr.com today.
---