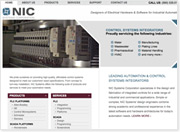 We are pleased to announce the launch of the new NIC Systems Corporation website!
For website redesign and search engine optimization services, NIC Systems collaborated with Web Solutions. The fully-redeveloped website represents a major step in revitalizing the Rocky Hill, CT company's marketing efforts.
"We wanted our website to more accurately represent NIC, and the new site's clean, modern layout, featuring images of our company's technology, does just that," commented Michael Flannery, Project Engineer for NIC Systems.
"We think our customers will appreciate the changes as well – the navigation system is intuitive, so users should find the site's interface simple to use."
NIC Systems Corporation provides high-quality, affordable control systems for a wide range of industrial and commercial applications. Learn more about the products and services NIC offers by visiting their new website today: www.nicsystems.com.
---