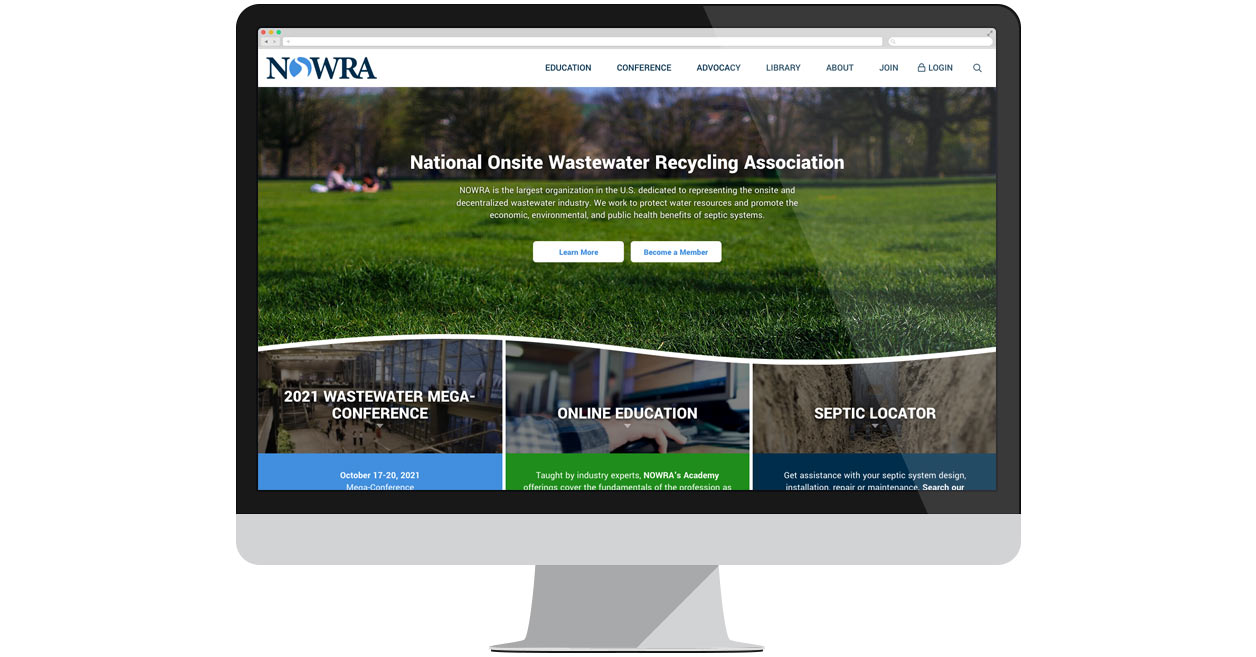 The National Onsite Wastewater Recycling Association (NOWRA) is the largest organization in the U.S. dedicated to representing the onsite and decentralized wastewater industry. NOWRA works to protect water resources and promote the economic, environmental, and public health benefits of septic systems.
NOWRA had an existing website but it was outdated and not mobile friendly, so the organization came to Web Solutions for a website redesign.
"The purpose of the site was to give us a new clean look while making the site much more user-friendly," said Thomas Groves, Executive Director of NOWRA. "Many of our members may not be as technology savvy, so a less-intimidating site with easy navigation was our goal. We also wanted to highlight and emphasize our online learning academy, which will be driving a lot of new traffic to our website."
Web Solutions built a new website in its Content Management System v4 with a fresh, responsive design, intuitive organization, and easy to find information. For NOWRA's educational offerings, Web Solutions built a custom search engine that allows site visitors to search for training opportunities by state by clicking on a map. "The interactive U.S. map that we use for the online learning selections has been one of our favorite and most popular features," said Groves. "It simplifies the process and it's easy to direct someone to the map. And it's pretty cool!"
The site also offers a large library of resources, including industry data, publications, news, and information on septic systems for homeowners, plus a search engine that allows visitors to search for a local septic professional by company name, contact, or location.
"Web Solutions has been great to work with," said Groves. "They have been extremely responsive to my requests, no matter how simple they may be. And when we've requested additional work, they have been upfront about the costs and expectations of the work. It's been a pleasure to work with them."
For more information, visit https://www.nowra.org.
---