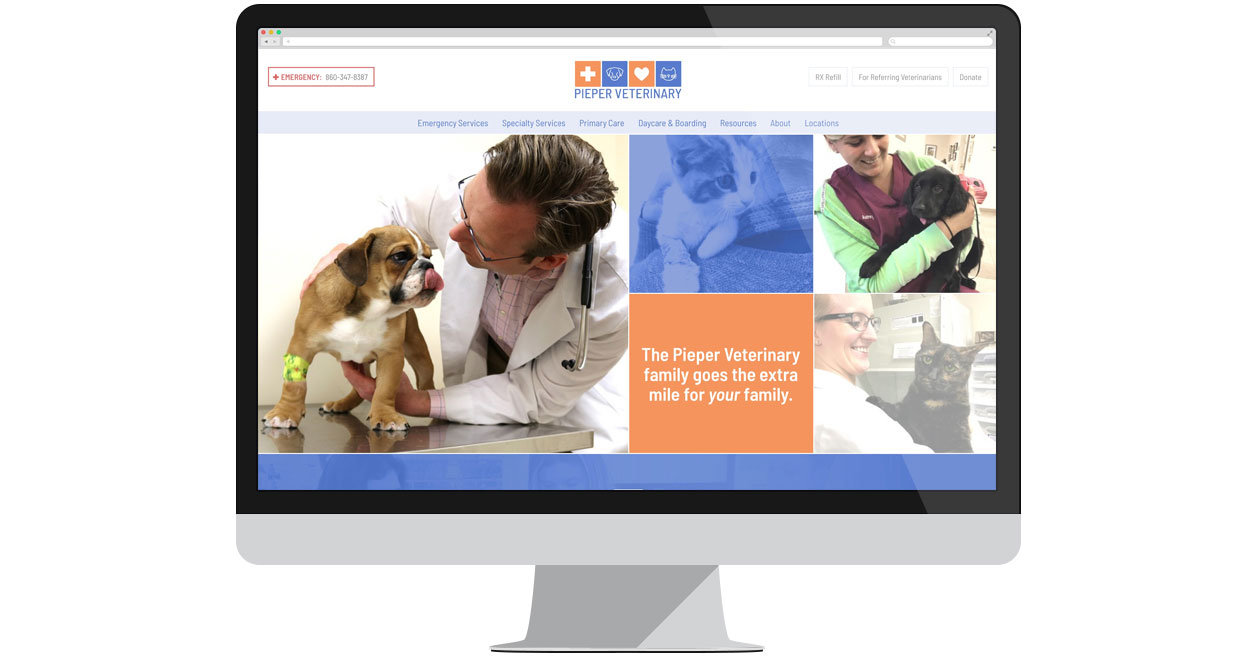 Pieper Veterinary was founded 60 years ago and now includes five general practice locations and two 24-hour emergency and specialty hospitals.
Offering general pet care as well as specialties including critical care, neurology, surgery, internal medicine, oncology, diagnostic imaging, and physical therapy, Pieper Veterinary considers itself a local family business that treats pets like family members, while also offering the size and technology to explore every option for sick pets.
Pieper had two existing websites they wanted to merge into a single, professionally designed website that more accurately reflected the professionalism and technological expertise of the practice. "The main goal of the new Pieper website was to bring together all of our many hospitals and many, many services in a cohesive way that fully conveys the commitment we have to both our patients and our clients," said Jesse Ferguson, marketing manager at Pieper Veterinary.
At the same time, they wanted the site to have a heartwarming feel, with actual photos of compassionate staff members and pets in their care. "Staying authentic with all our own photos was a high priority for us," said Ferguson.
Web Solutions built a new website in its Content Management System v4 that is easy to navigate, informative, and engaging, with colorful photos of pet patients and custom landing pages for Pieper Veterinary's main services: emergency services, specialty services, and primary care.
The site also offers a staff directory page, with the ability to feature specific doctors and other staff members on the web pages for the departments they serve. Web Solutions also built a custom module for Pieper Veterinary's locations, so each location has its own page with a photo of the building, hours, contact information, services offered, department doctors, and customer testimonials.
"Web Solutions was very patient as we spent a lot of time working internally on content," said Ferguson. "Our biggest struggle was how to make the two sides of our business work together on one site, and they got it exactly right. Everyone was friendly and feedback was responded to very quickly."
For more information, visit www.pieperveterinary.com.
---