PoliceApp.com is slated to enhance the efficiency of the recruiting and hiring process for law enforcement departments across the country.
For years, PoliceApp.com, a web-based recruitment platform, has provided a central location for both hiring departments and qualified candidates, but focused only on Connecticut's police departments. To meet a growing demand for both efficiency and consistency within the selection process, January 2011 saw the unveiling of a new site layout with increased capacity.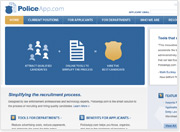 Web Solutions worked with the staff of PoliceApp.com on the site redesign to develop a simple, intuitive website that would act as a one-stop resource for law enforcement departments with vacancies as well as potential candidates. With the launch of the new site, PoliceApp.com is now offering its services nationwide. The redevelopment project also included the introduction of a Facebook page for the organization that will incorporate job postings in its feed.
Already boasting 11,000 site users to date, PoliceApp.com membership is expected to increase sharply with its new national availability. And as record numbers of applications for law enforcement positions pour in, the expansion couldn't have come at a better time. Sean Cassidy, President of PoliceApp.com, notes, "With today's economy, our platform can be a lifesaver for departments who are experiencing interest in positions like never before."
The goal of PoliceApp.com has always been to simplify the recruiting process, a value clearly reflected by the organized and user-friendly new site. Departments can easily customize the online application with their specific criteria, track applicant information and test scores throughout the selection process, and automatically generate compliance reports. For applicants, PoliceApp.com offers a clearinghouse of up-to-date job postings, email notifications, a message board, and a secure account makes applying to multiple departments easy.
The new website is every bit as streamlined as the services it offers! Check it out today at www.PoliceApp.com.
---