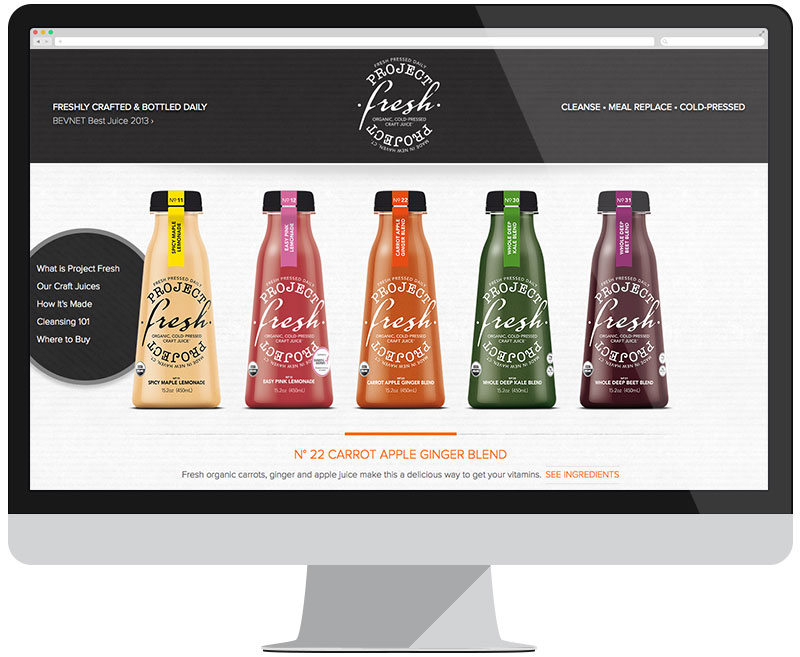 Project Fresh is a new line of raw, organic juices from New Haven's FreshBev Craft Juicery. The cold-pressed, micro-milled juices can be used for cleansing, as meal replacements, or simply as refreshing additions to your diet.
To create a showcase for the juices, the FreshBev and Web Solutions teams worked closely together. The Project Fresh website was designed around the juices, clearly displaying all product information and facts. The site is easy to navigate and provides a wealth of knowledge for users who want to learn more about the juices or find out where to purchase them.
"Web Solutions has succeeded in creating a modern, sleek new website that clearly sets out all the information that we want to portray to our customers," said Michel Boissy of FreshBev, LLC. "Site visitors can learn about Project Fresh as well as view in-depth details about the 5 juices currently in stores. Web Solutions went above and beyond in the design and development of our new website and we are extremely happy with the overall outcome."
Check out the full line of delicious new Project Fresh juices by visiting the new site at www.projectfreshcraftjuice.com!
---