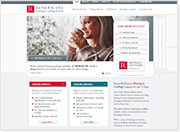 Since 1936, Roman Oil has been a trusted, family-owned company providing heating and air conditioning services throughout Meriden, CT and the surrounding areas. They recently launched their new website, designed to showcase their services and offer a variety of convenient resources.
In addition to information on the various heating and cooling services Roman Oil offers, the new website offers customer testimonials, FAQs and delivery and pricing information. Prospective customers can explore all of these areas and fill out an online Customer Application form to get started. The site also offers an Online Customer Portal, where existing customers can access and manage their accounts.
"Our grandfather built Roman Oil on offering great customer service," said Kevin Roman, co-owner of Roman Oil. "With today's world it is important to give our customers that same level of care when they visit our website. Therefore, we partnered with Web Solutions to create a platform that would allow our customers to have access to their account information. They can now see their delivery or service history, order an oil delivery, make a payment, sign up for a pricing contract or even schedule a cleaning – all on their own time."
"Roman Oil will always strive to provide the highest level of customer service and we are committed to providing new and innovative ways to enhance our customers' experience. Our new website demonstrates that commitment and we are excited about the all the new services the site provides to our customers."
To learn more about Roman Oil, visit their website at www.romanoil.com!
---