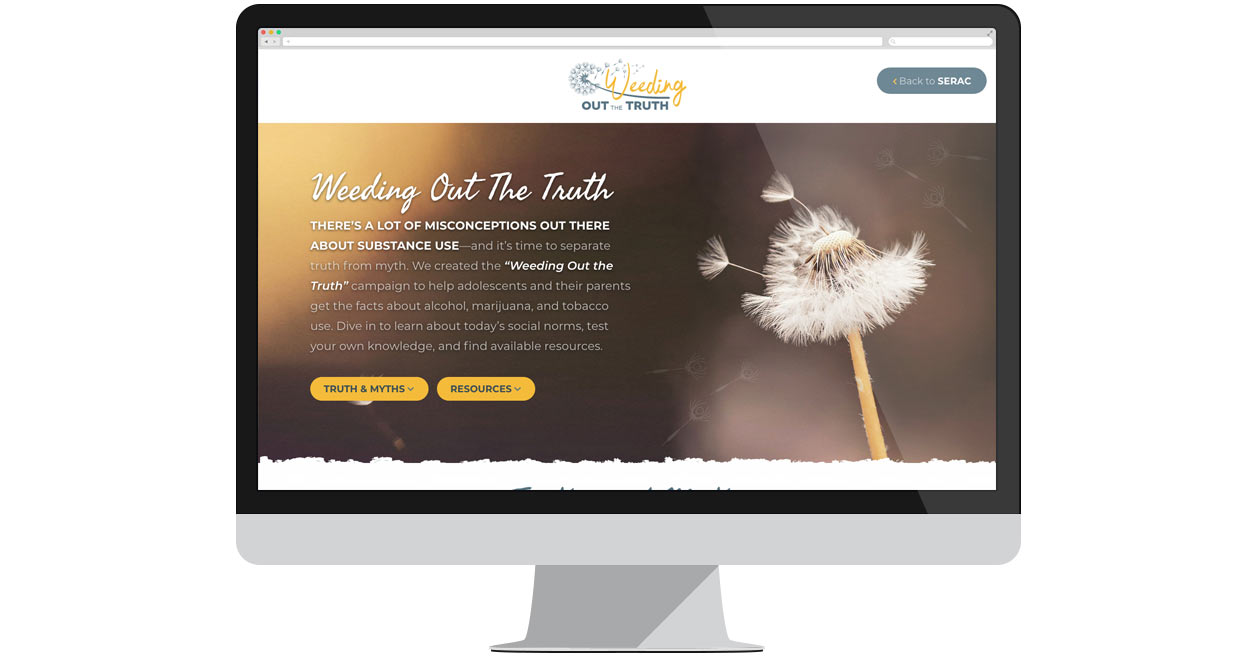 The Southern Regional Action Council (SERAC) is dedicated to helping communities in eastern Connecticut reduce the impact of substance abuse, problem gambling, and mental health-related issues.
In addition to its main website, built by Web Solutions and launched in 2019, SERAC now has a new standalone landing page for its "Weeding Out the Truth" campaign, which is designed to help adolescents and their parents get the facts about alcohol, marijuana, and tobacco use.
The Weeding Out the Truth page offers visitors a fun, informational way of learning more about alcohol, marijuana, and tobacco use, including a 4-question quiz to test your knowledge, and an interactive "truth or myth" feature that lets visitors hover over a statement to see whether it is true or false. The page also includes a resources section to help visitors find information, support, and local treatment options.
"The layout and design is extremely inviting," said Angela Rae Duhaime, Associate Director of SERAC. "It does not employ scare tactics or judgment, it presents a sense of hope and empowerment through knowledge. Plus, the interactive nature of the site is extremely engaging, encouraging visitors to stay and learn more!"
"Our organization has been working with Web Solutions for a few years, and having worked on many digital projects before I can honestly say the efficiency of the team is of the highest caliber," said Duhaime. "The staff are friendly, easy to talk with, flexible to changes, and provide so much support through what can often be a very daunting process to take ideas into fruition"
For more information, visit https://www.seracct.org/weeding-out-the-truth.
---