For more than 100 years Simoniz has been known for their cleaning products. Originally the maker of the iconic car wax, Simoniz has evolved into an industry-leading manufacturer of automotive cleaning and protection products, as well as professional cleaning and sanitizing products for the industrial and healthcare markets.
Since becoming a Web Solutions client in 2006, Simoniz has launched new websites, made updates to existing sites, and acquired third-party websites. They eventually ended up with six separate sites, all with different designs, technical capabilities, navigation styles, and content.
To "increase brand awareness and educate the B2B and B2C audience about our products and services," said Alma Medina, communications and marketing manager, Simoniz decided to consolidate all their websites into two brand new sites—one for their business customers, the other for consumers looking to purchase Simoniz products or get detailing services at the Simoniz Garage.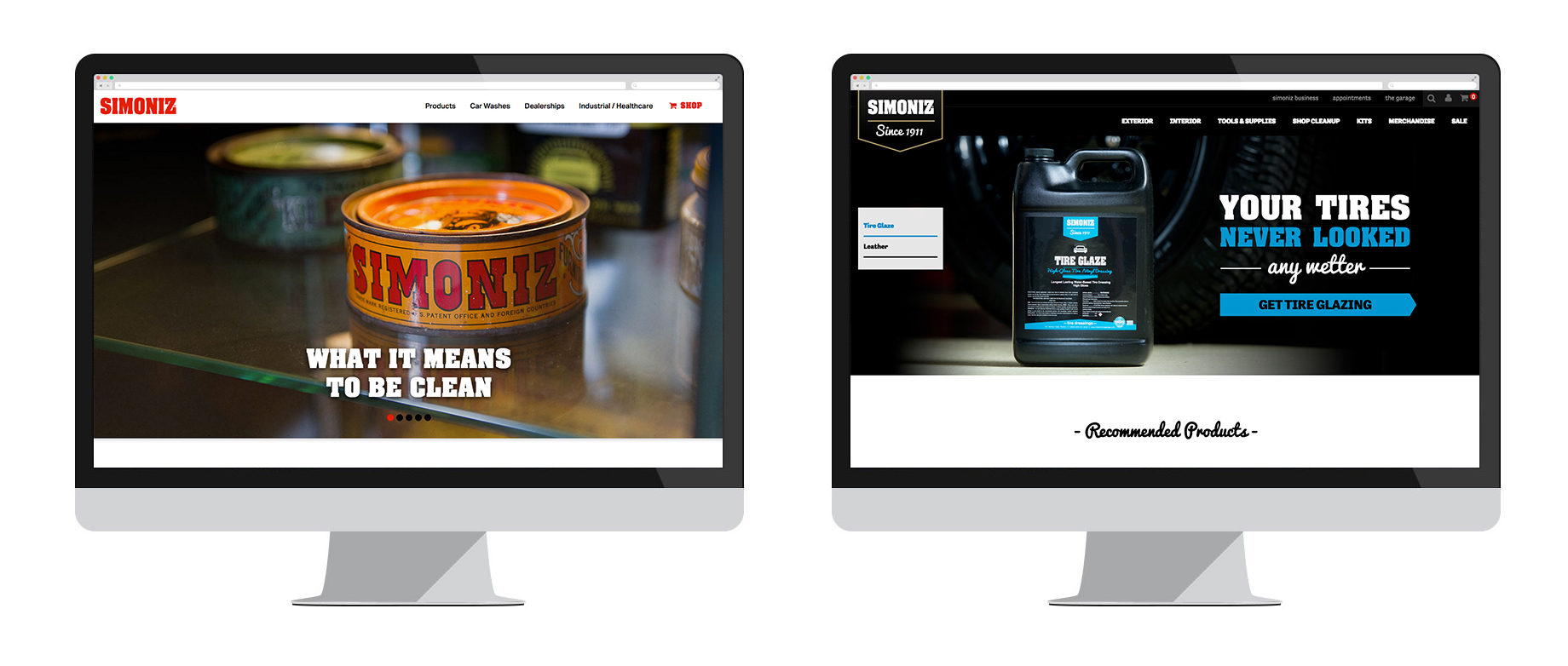 Web Solutions built both new sites using v4 of its proprietary Content Management System—a significant upgrade for both sites, as the B2B site had been built in v2 and the consumer site in v3.
The new B2B site features a clean, modern design and a simple main menu listing Simoniz's major customer audiences—car washes, automobile dealerships, janitorial/commercial cleaning, and healthcare, as well as a main Products page.
To highlight Simoniz's 106-year history as an American icon, the A Ride Through Time section features an amazing collection of historical photos and interesting stories involving the Simoniz brand, including the first mention of "Simoniz" in Webster's Dictionary (a verb meaning "to polish with wax") and an advertisement featuring The Three Stooges.
Simoniz's consumer site gives visitors an easy way to shop for Simoniz products, including exterior and interior car care, tools and supplies, and Simoniz-branded merchandise. Designed to mirror the cool vintage vibe of the Simoniz Garage in West Hartford, CT, the consumer site has a hip, nostalgic feel backed by cutting edge technology, including an updated checkout process that allows customers to ask questions that can be answered by other customers or Simoniz itself.
"Unlike most of our competitors Simoniz is not simply a brand or a marketing company," said Paul Wolfer, marketing and operations manager for Simoniz USA Retail Division. "We are a 100+ year old actual brick and mortar company that imagines, develops, tests and uses the products that we sell every single day in our own detail training center. We wanted a new website that not only allowed enthusiasts to easily find and purchase our products directly but also to truly make the user feel like they are entering the ACTUAL Simoniz Garage every time they visit the site, down to the memorabilia elements and even the fonts that we use on our packaging."
In terms of functionality, said Wolfer, "I simply love how easy the CMS is to use. We can quickly and easily add and modify products, update images, run promotions and more in-house without having to hire someone that knows how to code."
"I've worked with Web Solutions for over eight years, and it has been nothing less than a great partnership," said Medina. "They provide creativity, organization and strategic planning in all areas related web design."
"What really struck me was their honesty," added Wolfer. "I have worked with many agencies and designers in the past that simply told me what they thought I wanted to hear. We hired an expert to guide us, and I'm glad we went with their advice because the site came out completely awesome and now we're ready to rock!"
For more information, visit the business site at www.simoniz.com and the consumer site at shop.simoniz.com.
---