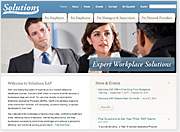 Web Solutions is proud to announce the launch of Solutions EAP's new website!
Solutions EAP is a program subsidiary of Advanced Behavioral Health, Inc. of Middletown, CT, that offers innovative work / life services to both large and small businesses. Their services include comprehensive Employee Assistance Programs (EAPs), health and wellness programs, crisis intervention services, HR consulting, corporate training, employee development and more to over 130 organizations nationally.
Marlene Kurban, Vice President of Business Development, approached Web Solutions for website redesign services with hopes of creating a professional yet warm web presence to attract potential clients and also showcase the compassionate side of the organization.
"As a professional organization it is important to present ourselves as such, yet the focus of our business is helping those through their most vulnerable and serious times, which caused this dichotomy of emotions. Web Solutions was able to design a website that balanced both sides, and we couldn't be more pleased," stated Kurban.
Web Solutions used a clean and structured layout to ensure easy navigation for any web visitor, and selected graphics that portray both the professional and compassionate angles. Overall, Kurban summed up the new website as "well-organized with an attractive palette and very relatable images that effectively communicate our story."
To learn more about Solutions EAP and explore the resources they have available, visit www.solutions-eap.com.
---